Simon Taufel was a fast bowler coming through the Sydney Grade Cricket ranks when a back injury curtailed his playing ambitions and he went on to become cricket umpire.
74 Tests, 174 One Day Internationals, 34 Twenty20 Internationals and was voted the number one umpire in International Cricket for 5 consecutive years.
It's been quite a journey filled with wonderful experiences and a few lows. Here we find out more about Simon
Welcome Simon
What year were you born?
1971
Where did you go to high school?
Marist College North Shore (North Sydney)
Do you remember your first ever game of cricket?
I don't remember my first game, but I remember my first team/club with very fond memories. The Brothers D2 side – coached by Brian Ophel. I would have been 12 years old. There were some very handy other kids in the side which gave me time to work on my cricketing skills. I really enjoyed the "family" aspect of the game and camaraderie of the team/club.
Where did you play your junior cricket?
Brothers Cricket Club.
Which clubs have you played for?
Brothers, North Sydney, Mosman and Cammeray.
How old were you when you first played grade cricket?
About 17yrs of age (after playing Green Shield) with the North Sydney club. It was well led by Trevor Chappell, the 1st grade captain and club coach. He was one of the finest fielders and passed on some good bowling advice to me as well.
Rumour has it you had quite a bit of pace, what do you reckon the speed gun would have registered at your peak?
I tried to be, which was probably my undoing! I moved across from North Sydney to open the bowling at Mosman. Was I going to unseat the opening State bowler from 1st grade, Greg Rowell? Not likely, but I did get a chance to have the odd net session with the club coach at the time, Sir Garfield Sobers. Unfortunately, Garry was normally on a course for most of our sessions – the golf course or the race course!
Speed guns were not around at training sessions or matches – I may have been lucky to hit 125km/hr!!??
Can you remember your best bowling figures in Grade Cricket?
Funny enough no, so they must not have been too great. I remember taking 8/19 for Brothers A grade in the Northern Suburbs senior comp and 6/36 in the NSW Combined Catholic Colleges team.
Why did you stop playing and what was the attraction to start umpiring?
I had a back injury with Mosman 2nd grade. A couple of hard decks in a row (Allan Border field, Raby) a few games into the season and found it hard to recover. After some treatment at RNS hospital, I tried getting back into bowling through the Cammeray Cricket Club, playing with some indoor cricket mates. It was one of those mates, my opening bowling partner, David Budge, who talked me into joining him to attend a NSWCU&SA training course. On the first night of the course, seeing former Test umpire Dick French there and having an excellent State umpire trainer, Alan Marshall, run the course I thought it was worth a shot.
Can you remember your umpiring debut in Sydney Grade Cricket?
I was 20, it was 1991/92 and my colleague was the secretary of the NSWCU&SA, George Wearne. It was at Sydney University but I couldn't tell you who the other team was. Too long ago!
How long did it take to progress through to First Grade and then to State and International Cricket?
I spent half a season in lower grades (first year), then the next year I was in 2nd grade for the whole of that season, and my third season saw me in first grade. That 3rd season saw me officiate my debut 1st class match (end of the 94/95 season) between NSW and SA at the SCG (age 24). I was inducted into the CA national panel in 1998 and officiated my first ODI at age 27 at the SCG (Australia v Sri Lanka) in January 1999. My first Test was at the MCG, Boxing Day, between Australia and the West Indies at age 29 in 2000.
Simon Taufel first Sheffield Shield Game - Darren Lehmann out LBW to NSW spinner Greg Matthews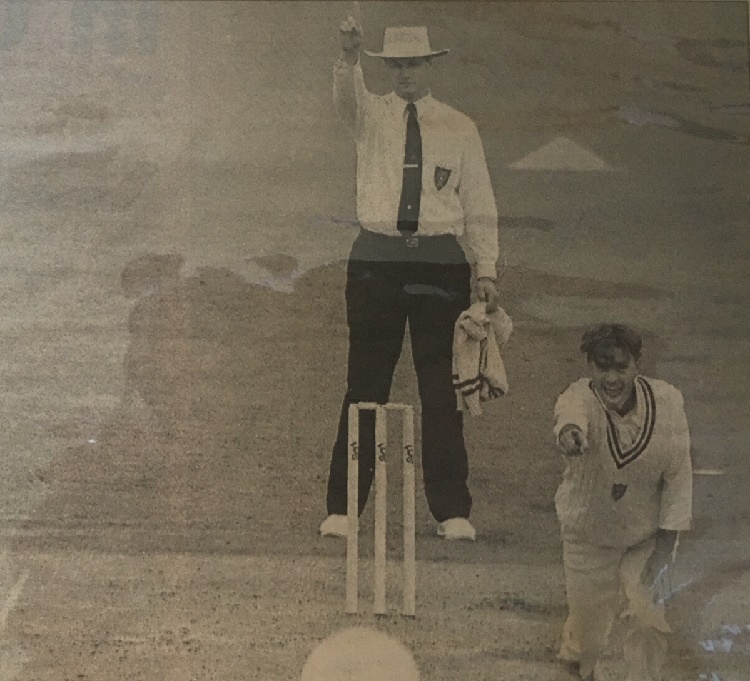 Who were the umpires you admired most when you started out as an umpire? Is there anyone in particular you wanted to model your umpiring on?
I was so lucky to start my umpiring with the NSWCU&SA. There were so many great umpires and people willing to share their experience/advice. At the risk of leaving some out, I'll name a few… French, Marshall, Wykes, Watson, Thomas, Hair, Duffy, Chudleigh, Griffiths, Dodd, Jackson, Hughes, Brooks and Cameron.
I was 3rd umpire for many international umpires as well in my early days – Shepard, Koertzen, Willey, etc (not to mention the Aussie umps – Hair, Randell, Thomas, Prue, Davis, Parker, Emerson) but one thing that struck me was how different they all were. It was important for me to be myself (because everyone else was taken) and umpire with my own style and brand. For me it was about being the best umpire I could be and taking the best quality and attribute from those above and seeing if it worked in my game. I would offer this same advice to anyone today – be true to yourself and be the best you can be.
Most favourite ground in Sydney to umpire?
Bankstown and North Sydney No1. (Excluding the SCG)
Were there any Sydney Grade players you especially had to keep an eye on?
John Dyson, Greg Matthews, Anthony Kershler, Brad McNamara, Scott Hookey, Neil Maxwell, Tony Clark, Paul Ryan and Andrew Fitzhenry, just to name a few. Wicket keepers tend to be both a challenge and a blessing – they can make or break you as an umpire. The same can be said for the captains but in a slightly different way. I liked a challenge and there were a number of challenging grade players when I was coming through – it's a school of hard knocks and it's not supposed to be easy. If it was, then everyone would get through to 1st grade and higher. These players, while difficult at times, helped me grow my skills and work harder on my game. I'm very grateful for the experiences that they gave me as they helped shape me into the umpire I became.
When did you make your debut as an umpire in test Cricket? How excited were you and what do you remember most about the experience
Boxing Day – MCG – Australia and the West Indies.
I was very excited, and it was special to have my wife Helen there with our new born son, Harry. I was very grateful for the support of the NSW umps (some of whom came to the match) and all the faxes and letters of congratulations received.
I remember the national anthem and Australian captain Steve Waugh just giving me a wink of good luck. I recall getting my first decision right (giving out Justin Langer caught behind off West Indies captain, Courtney Walsh). Umpiring with Venkat was a different experience to that of my NSW and Australian colleagues – the teamwork routines were not the same! I also remember getting two decisions wrong – one at the end of day one and one the last day (4th day) – both going against the visiting team. I walked away from that Test not satisfied with my performance and made the self-promise to do a whole lot better if given the opportunity again.
Who were the three bowlers you admired most as an umpire in International Cricket and why?
Greg Matthews – passion, passion, passion. Love of the game and contest.
Glenn McGrath / Shaun Pollock – consistency, consistency, consistency of line and length
Shane Warne / Mutiah Muralitharan – control, control, control. They could spin the ball on glass and put the ball wherever they wanted to.
Who were the three batsman you admired most as an umpire in International Cricket and why?
AB de Villiers / Kumar Sangakarra – such a talented batsman in all formats of the game. Just great people as well.
Rahul Dravid / Jacques Kallis – patience and temperament.
Lara / Gilchrist – they could move the game forward quickly and set their team up for a win.
What's been your most memorable moment in cricket?
Good moments – all of the firsts and debuts at various levels plus the finals such as the ICC Cricket World Cup Final 2011 in India. Being able to provide my family with "money can't buy" experiences and taking them to some great countries to make new friends.
Not so good moment – being in the Lahore terrorist attack of 2009 where people were killed and severely injured in our van.
Simon Taufel with Virat Kohli after the launch of his new book "Finding the Gaps"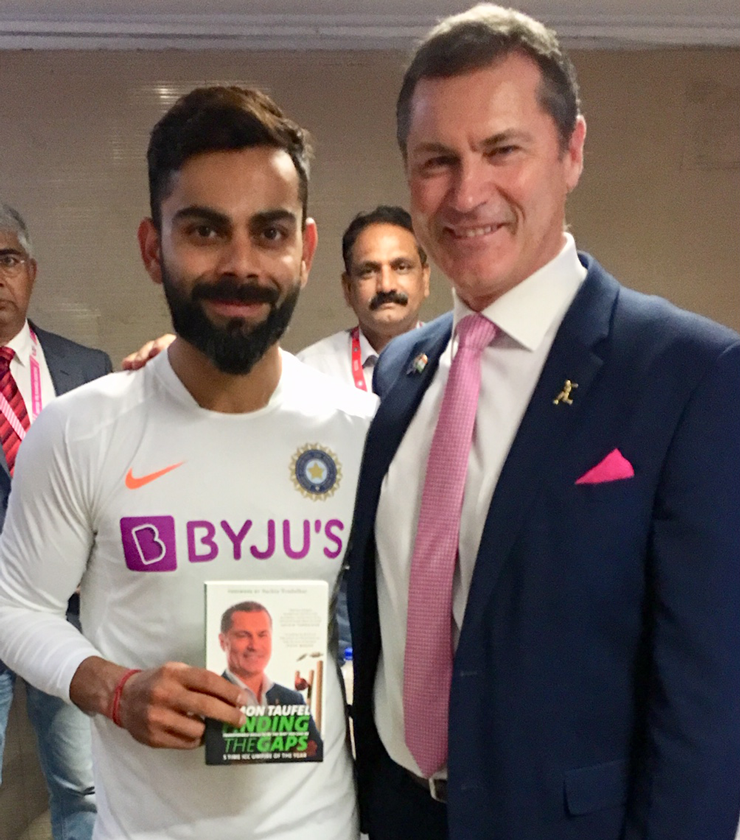 Who's been the biggest influence in your involvement in cricket?
I go back to my first coach, Brian Ophel and my first sports master at Marist College, John Doran. They germinated the love and opportunity with the game and helped show me what cricket is all about … mateship, preparation, leadership, self-sufficiency, strategy, humility, service and honour.
Who was the funniest umpire you've had the pleasure to umpire with?
Billy Bowden on and off the field.
Who is your favourite all time cricketer growing up?
These guys stood out for me – Lillee, Greg Chappell, Malcom Marshall and Richard Hadlee.
What did you enjoy most about umpiring?
Walking off the field knowing that you wouldn't change anything in the last 6 hours plus taking my boots off in the change room!
Apart from that – the challenge of managing others and yourself with your mate at the other end.
Was there a particular team you really looked forward to umpiring and why?
Australia – for most of my career they were the best team in the world and I wanted to test my skills and abilities against the best.
If you're in the middle seat of the middle row of Qantas QF1flight to London which two umpires from any level would you choose to on your left and right?
Ted Wykes and David Shepard.
Did you have any superstitions?
Of course!
Left shoe on first
Several pre match routines – that includes "cap, counter, courage" as I left the umpires' room.
Always let my partner walk out and off the field ahead of me.
As I enter the field, look to the sky and thank those that have helped me get to this point.
Most favourite ground to umpire International Cricket?
1. Adelaide Oval
2. Newlands, Cape Town
3. The Oval, England
What's the most intriguing ground you've umpired?
I love grounds with character – those above but also the SCG in Sydney, the ARG in Antigua, Wanderers in Jo'burg, and SSC in Columbo.
There are also a couple of grounds where the umpires' room has a double bed, which seems very intriguing! Antigua and Faisalabad.
Technology – good or bad for cricket from an umpire's perspective?
Depends which umpire you talk to. For me, technology breeds mediocrity where umpires don't have to try as hard on the process of getting it right in the first place. Don't get me wrong, it has it place and value with some of the hardest calls, but the game is a test for the umpire too!
What piece of technology is most valuable to an umpire and why?
The digital radio – communication and teamwork is not given enough importance in managing the match.
What's the best advice you ever received?
The same three things I give to others (when requested) today…
1. Be yourself – authenticity
2. Be humble – you don't know it all and take responsibility for your performance
3. Work hard – you don't know how good you can be until you try
How many years were you voted the No 1 International Umpire of the Year and how much did that mean to you?
5 years in a row - from 2004 and 2008 inclusive. Receiving this ICC award made me feel somewhat awkward as one person was being singled out in a team sport. It was pleasing to see umpiring at least being given some profile and relevance with the other awards given to the players. I note today that the awards are not really highlighted or publicised too much.
The awards were mainly recognition for those who had helped and supported me in my career. It showed us that we were on the right path and our plans and hard work were being acknowledged. This is why a few years ago I decided to give 4 of the 5 trophies away. I gave one to my mother, one to the NSWCU&SA, one to my coach (Russell Trotter) and one to the Bradman International Hall of Fame (so everyone else could share it) - I kept one at home for my family.
I never umpired for awards or recognition. It was about doing your best and getting better game by game. Others voted on the awards and did what they wanted to do in this area. No one cares what awards you have on the field when you get something wrong!
Are you still involved in Cricket and if so, in what capacity?
I am a match referee in the Caribbean Premier League, a member of the MCC Laws sub-committee, along with being the current Chair of the Highlands District Cricket Association where I also still do some umpiring when available.
Do you like the modern game and what can the game do to make it better for umpires?
The game is always changing but we need to be careful not to change for the sake of it – we need to be careful with dumbing the game down and introducing gimmicks like the tossing of the bat instead of the coin toss. I'm not convinced that the 10 over game is cricket as there seems to be little skill involved.
We can make the game better for umpires through providing the 3rd team (the match officials) with equal training & development resources as the other two teams (the playing teams) – coaching, training, feedback, feedforward, administration and video.
What advice would you offer a young 17 year old who has the ambition of umpiring Test Cricket?
Patience – do the apprenticeship and umpire as many matches as you can. Find a good coach and mentor. Make as many mistakes as you can at the lowest levels and learn quickly (from others). Never worry about matches you should be umpiring, just umpire that match in front of you the best you can and let the selectors take care of everything else. Focus on your game and what you can do – above all, enjoy it or find something else to be passionate about.
What are your hobbies?
Personal and professional development. Golf, boating, fishing, watching comedies and supporting my kids in whatever they chose to do.
What is your occupation?
Development consultant and partner of Integrity Values Leadership – I'm passionate in helping others unlock their potential, whether it is business or sport.
Are there any lessons from your time in cricket that you take into work or life in general?
Please read my book, "Finding the Gaps" (available through the Bradman Store in Bowral and online) where I outline the transferrable soft skills that can help you be the best you can be – leadership, preparation, teamwork, resilience, managing conflict, attitude, coachability and so on.
Simon Taufel in his early days as an umpire at the SCG with one of his mentors Ted Wykes OAM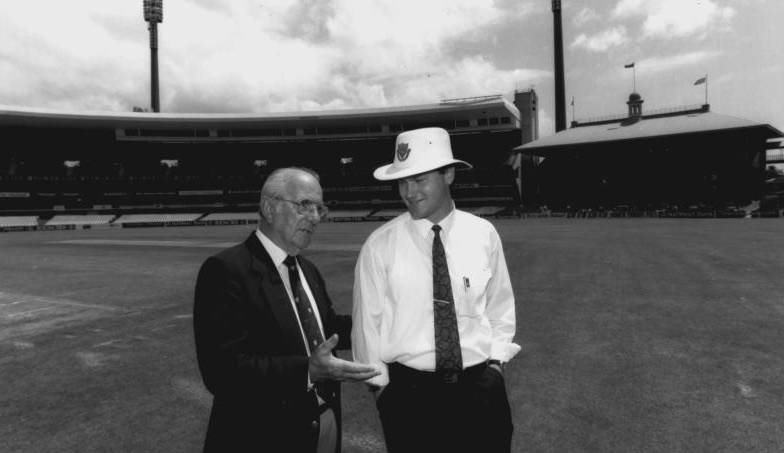 Simon walking off after scoring a few runs