The South Sydney Rabbitohs once had an abubdance of Burgess brothers to call upon but now they are down to one - big Thomas Burgess. And he has risen to the challenge.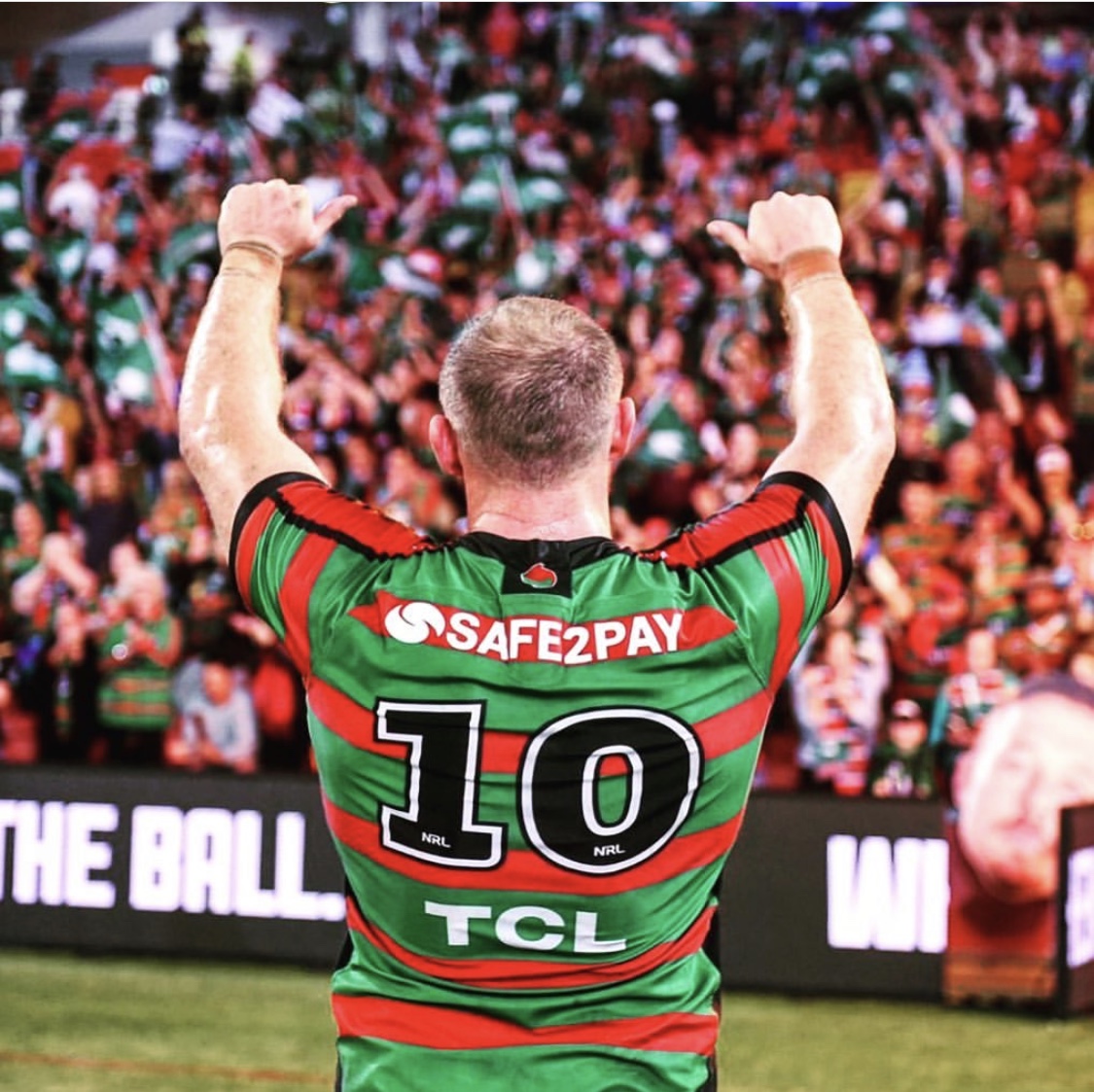 The importance to a rugby league team of extra large men up front can't be overstated. The whole team relies on the metres they gain and the strain they inflict on the opposition.
Now that Tom is the sole remaining brother he has become the leader of the pack at Souths and in 2020 leads the team in metres gained. He plays an important role now but his service to the club dates back to 2013 when he made his debut in Australia.
This week on the podcast we had an enjoyable chat with Tom, he was terrific as we wound our way from his childhood through to his arrival at Redfern then onto the day he played a huge role in Souths first premiership in 43 years.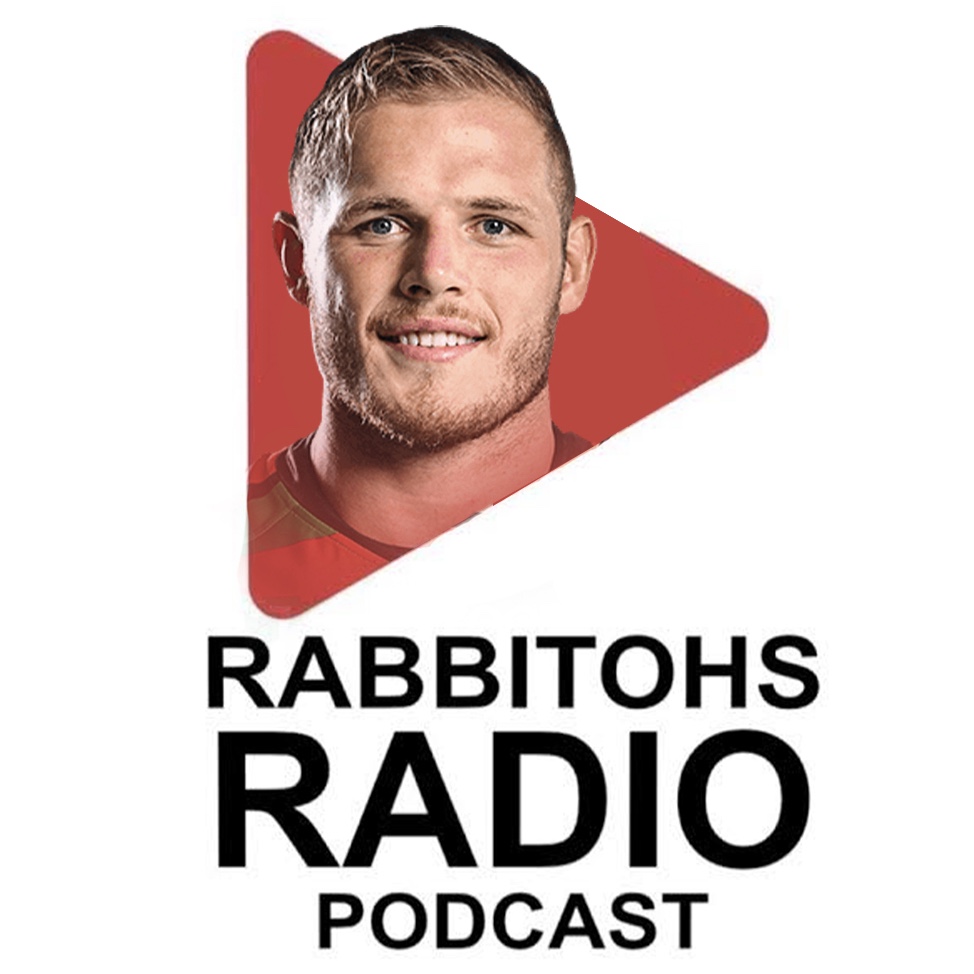 The highlight of our interview was the moment Tom paused to give a kiss goodnight to someone "so cute" and very special: his baby daughter Sophie.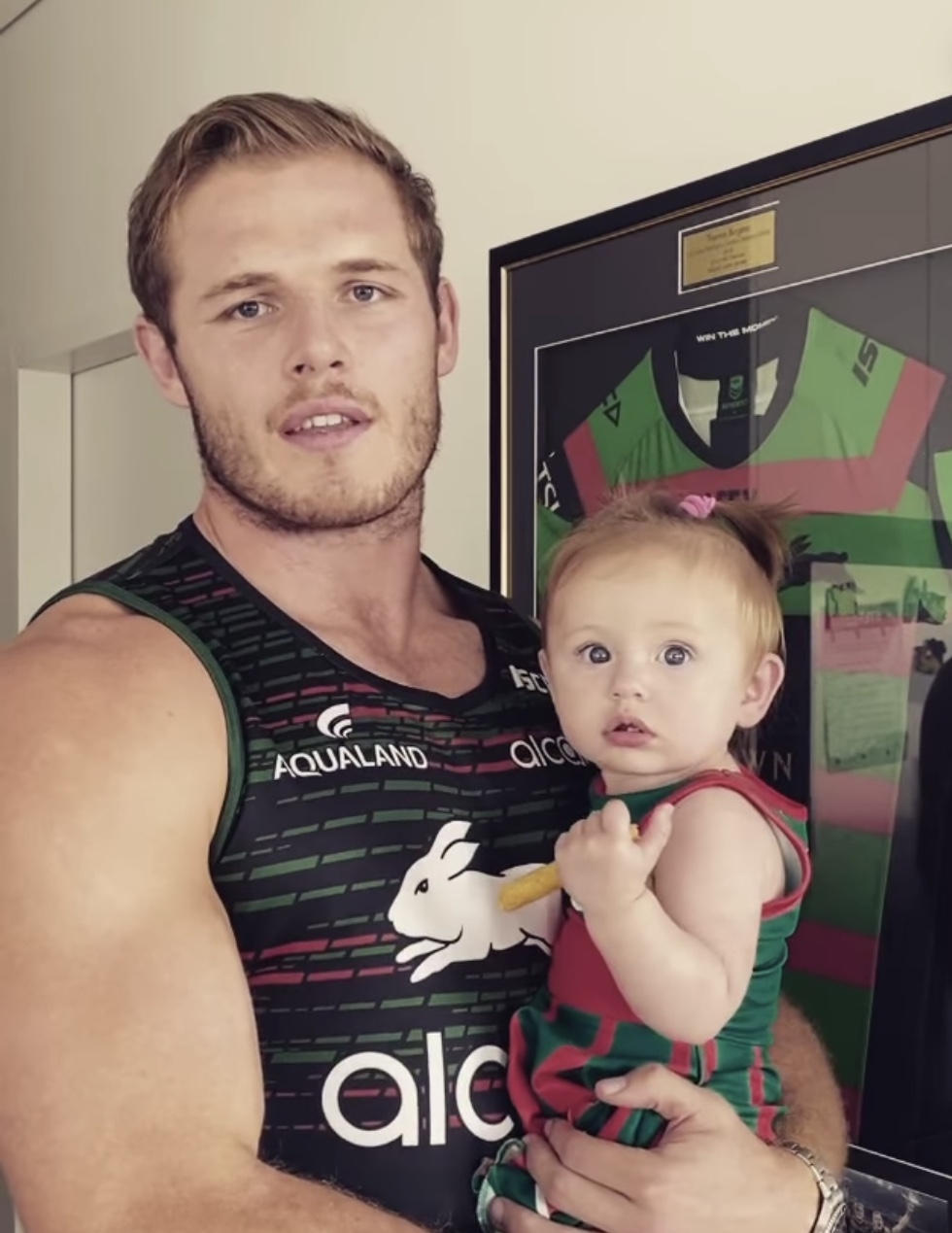 It was a touching moment that allowed us to see this giant of a man who fearlessly pounds his way over defenders in another light as a loving dad who adores his family.
Thomas Burgess grew up in the heartland of rugby league in the UK: Liversedge, which Tom describes as a 'little village' surrounded by the northern England towns of Leeds, Castleford, Wakefield and Huddersfield. All of these towns have teams in the UK Super League.
Tom fondly remembers his home town as very easy-going and says that he was thankful for his upbringing there. Dad Mark and mum Julie had four boys, the oldest being Luke, followed by Sam and twin boys George and Tom.
Tom said the family were always into rugby league, his father Mark played in the front-row for Nottingham City, Rochdale Hornets, Dewsbury and Hunslet. All the brothers played rugby league.
The family sadly lost Mark Burgess to Motor Nuerone Disease (MND) in 2007. Tom described his dad as superhuman strong, tragically taken from them by an incredibly cruel disease that robs men who are often in the prime of their lives.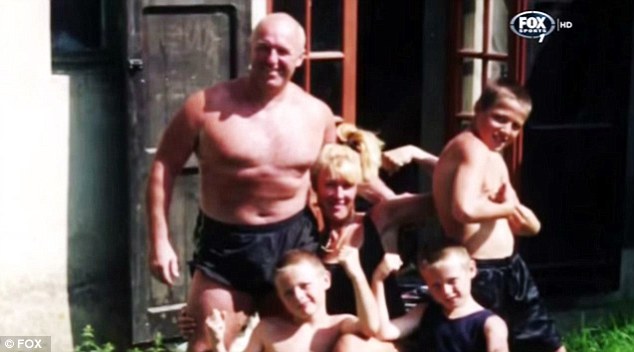 Tom said that one of the things he loved about his dad was that he kept making jokes about his dire situation and that he did this to protect his boys.
"He always did everything with a smile on his face and was the first to make himself the butt of the joke. That's what I'll always remember about him. He was always having a laugh even in the tough times."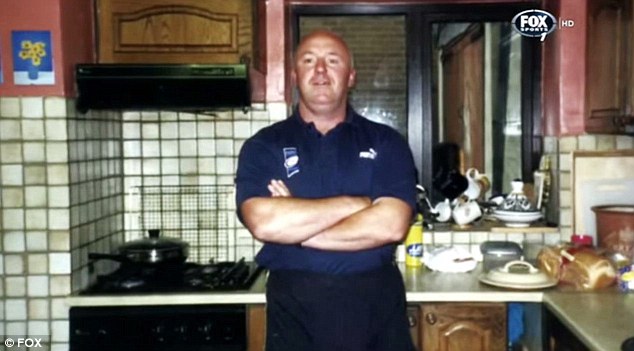 In a very nice gesture Russell Crowe made Mark Burgess an honorary life member of the Rabbitohs.
The story of the Burgess boys' arrival at South Sydney is a magic tale that has become part of this club's history. On a visit to see Sam in Sydney the four Burgess brothers and Crowe had a get together at which Russell "made no secret of the fact that he wanted all four of us at South Sydney".
So that was it. And from that day the wheels were set in motion with Luke and George joining Sam at Redfern. Tom however stayed in England and didn't rush into his decision to come Down Under.
In the end it was his twin brothers urging that helped him make up his mind, as Tom explains.
"I had a three year deal on the the table from Wigan but only a one year trial offer from Souths for much less money. I was on the phone to George one day and he said just come down here and give it a try, I'll promise you that you'll love it and never want to go home."
It's a testament to Tom's character that as a young man he took his brother's advice and turned his back on a lucrative big bucks offer to take a chance on red-and-green success in a land far from home.
We only need to look at the case of John Bateman, the Englishman playing for the Canberra Raiders to see the dilemma that some UK footballers face. John has had to endure the agony of being separated from his daughter who lives on the other side of the globe. The demands of professional rugby league can pull hard on the heart strings.
To seal the deal Russell Crowe invited Tom onto the set of Les Miserable where he would meet movie stars Hugh Jackman, Anne Hathaway and Sacha Baron Cohen. Tom described the moment as "pretty cool."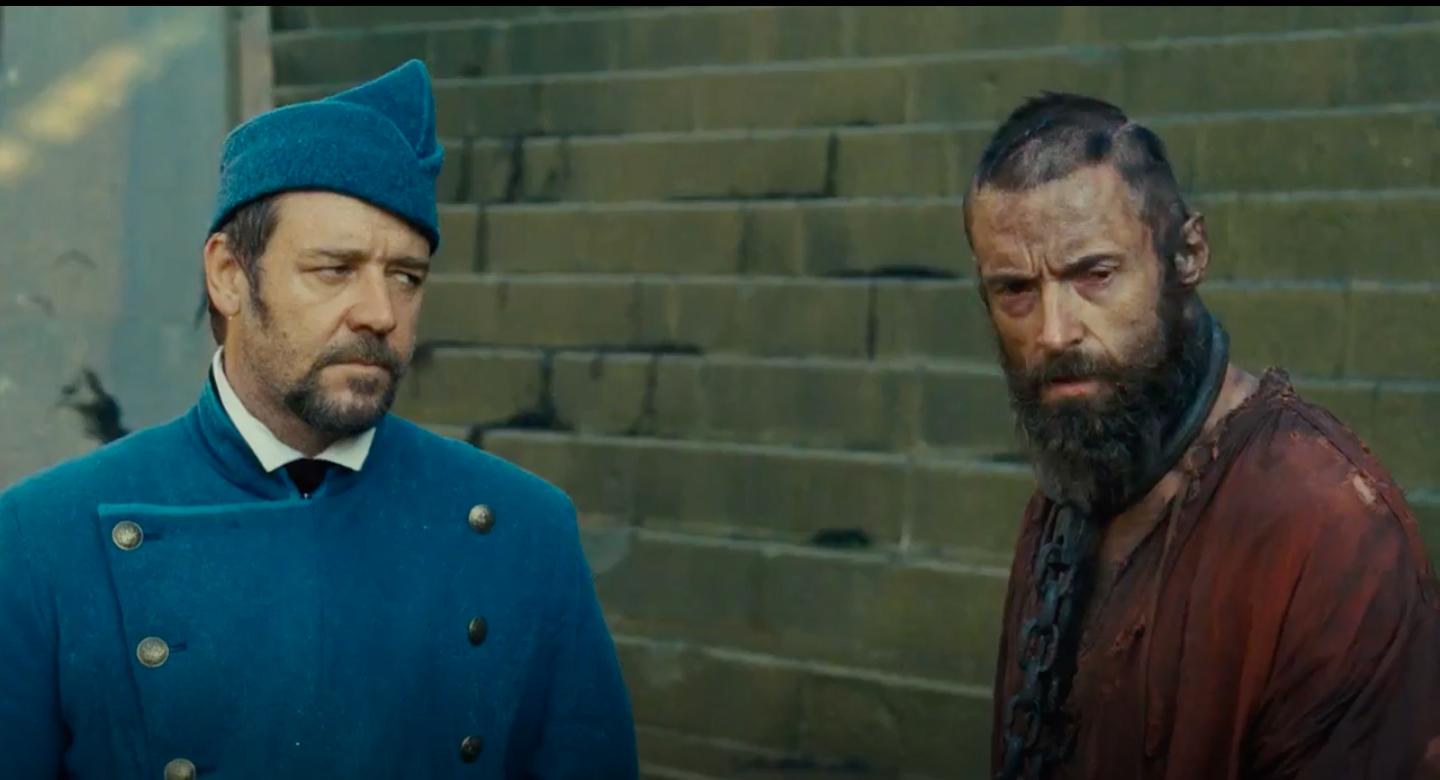 So the Big Four came, saw and conquered.
The Burgess brothers played a starring role in 2014 to help deliver the South Sydney Rabbitohs their first premiership in 43 years. Sam, George and Tom all played in the grand final & Luke Burgess made 18 appearances for the team that year.
Tom, George & the rest of the team came to the rescue when Sam had his cheekbone shattered early in the game after Bulldogs player and fellow Brit James Graham decided to use his head as a battering ram against the opposition.
Tom recalled "a few people went down and we sort of just stood up."
And stand up he did: Tom's 16 runs for 193 metres and 25 tackles off the bench was an incredible effort. His 82 post-contact metres was the most in the team. The record books will show that Sam Burgess won the Clive Churchill Medal as the best and fairest player in the grand final and George Burgess scored an iconic try that sank the Bulldogs to their knees. But the determined efforts of Tom were instrumental in the team securing victory.
What makes Tom's 2014 success even more satisfying for him is that he had to overcome his first major injury, a broken foot.
Toms season began is a plaster cast but ended in glory.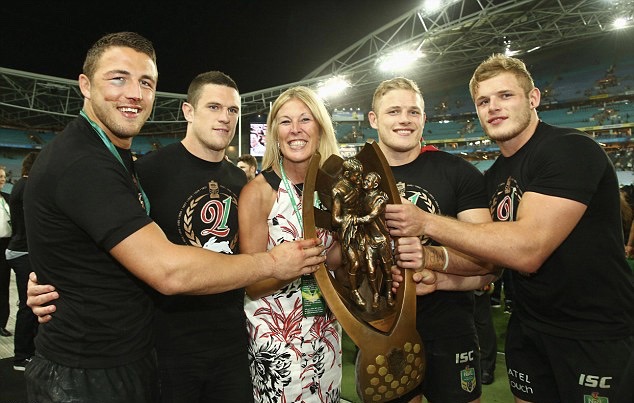 This awesome foursome from a little town in West Yorkshire near Dewsbury, England are not your average combination. They are a quartet of supreme athletes that broke a 103-year-old record when they all took the field at the same time in a game. In the process they made their beaming mum Julie Burgess the proudest parent on the planet.
It was 2015 when the brothers all played in an NRL game for the first time matching a century old record. Just before the end of the match when all four of them piled onto an unsuspecting Wests Tigers player in a tackle, close to 500 kilograms combined, it was no surprise that the football came loose under this mass of UK manhood.
"The days when we all played together at Souths - me, Sam, George and Luke - were just unreal," Tom said. "We all lived together, it was a crazy time with the fondest memories."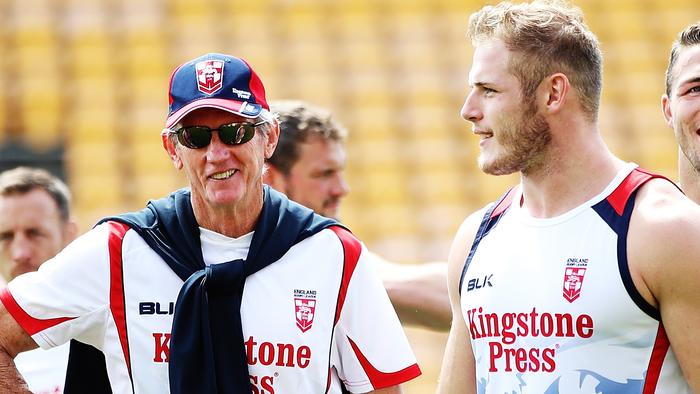 When asked about his close relationship with Wayne Bennett Tom said: "Wayne just gets me. And he appreciates front-rowers that work hard in the middle, so I always try and do that for him. Wayne also says to me: 'Tom, don't think - that's what I'm here for'."
While Tom has settled in Sydney with his partner Tahlia Giumelli and one-year-old daughter Sophie he says he will "always keep a base here", but won't rule out a return to England one day for perhaps another stint in the Super League.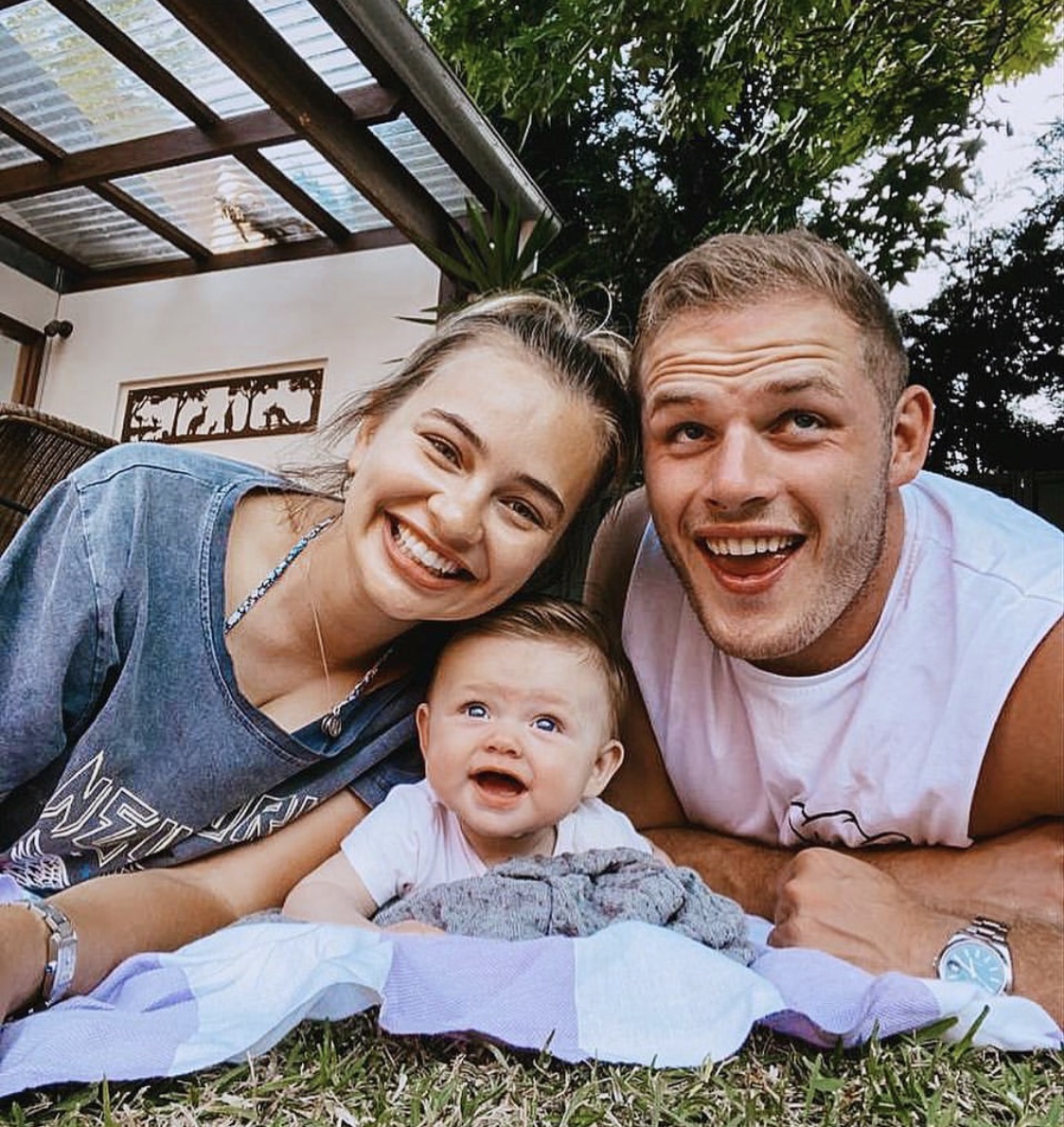 When recalling his memories of home Tom said: "The biggest thing you miss is the people over there, the different characters you meet. There's all these little towns and everyone's got different accents. I do miss that and the English pub is something you miss as well."
Although Tom tells us of his love for the Old Dart he can proudly say the he is now an Australian citizen.
"Out of all of us I was the last one to come out here but now I can say I was the first to become an Aussie when I became a citizen in December 2019."
Today the four brothers own a clothing label aptly named 4B. The range includes quality casual wear that takes its inspiration from what they feel comfortable in. Simple but high quality apparel.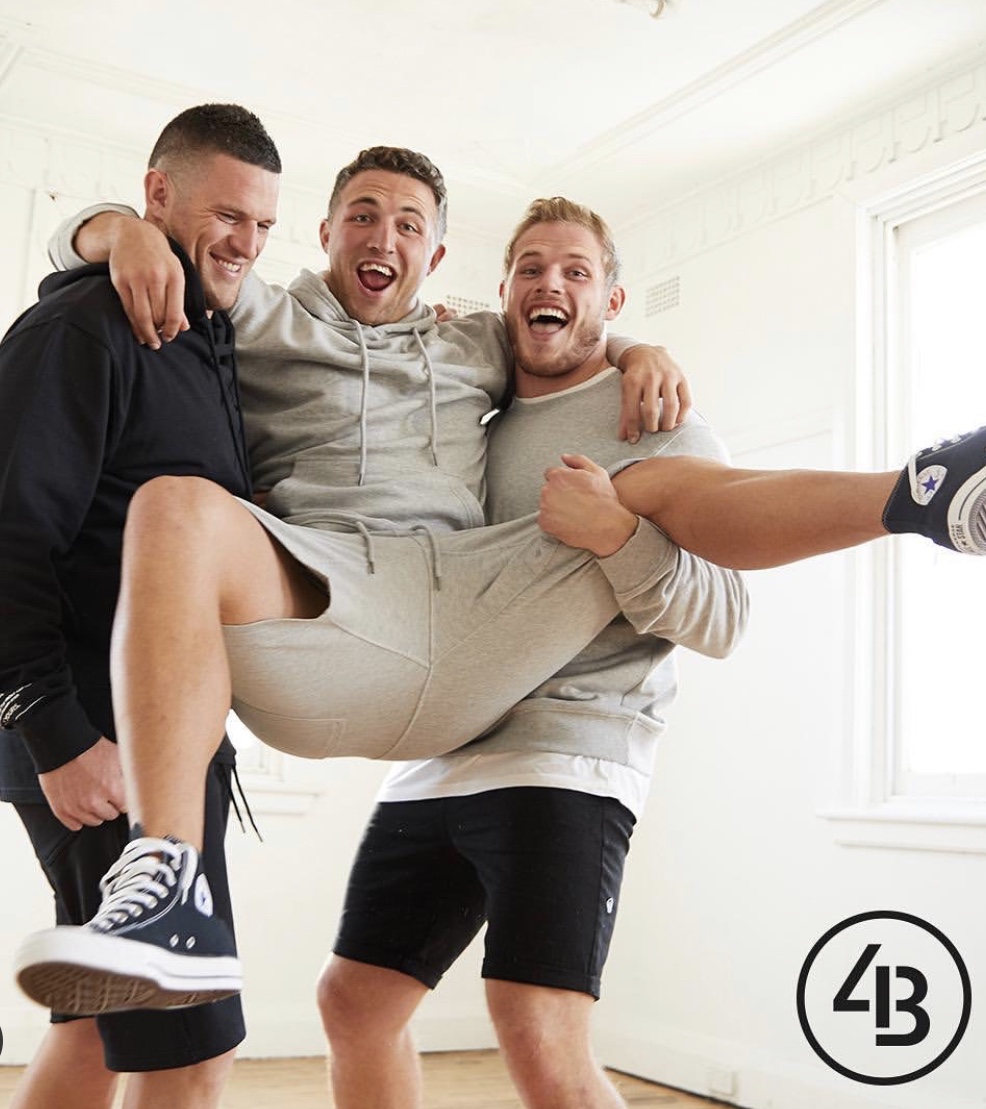 'Theres something special about this club," Tom said of the Rabbitohs. "I love it here and wouldn't want to play for any other team."
Well, Tom, we've loved having you here, mate, and we're certainly glad you're on our side and not the opposition!
Go well.
Steve Mavin
Listen to the interview with Tom here:
Listen to the full podcast here:
Click here to subscribe to Rabbitohs Radio with (below L-R) Steve Mavin, Darren Brown and Grant Chappell.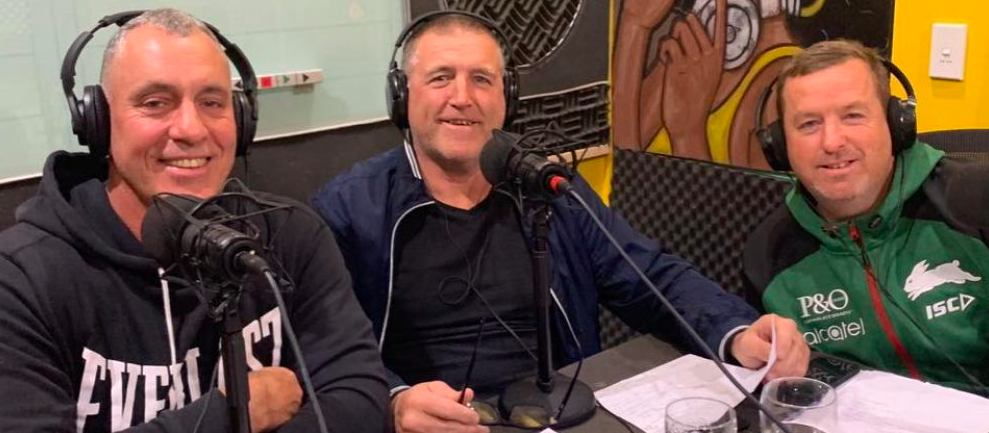 Rabbitohs Radio is proudly brought to you by:
If you'd like to see more content from Rabbitohs Radio, they'd be very grateful for your support and contribution. Rabbitohs Radio will receive 80% of all funds contributed.