New Zealand rugby has a massive advantage over Australian rugby: their country is obsessed with rugby.
All Blacks legend Colin Meads said the All Blacks are "motivated by fear"; not of losing but letting their country down.
"When we lost in our day it was a national tragedy, a national disaster, and you got scorned by people," said Meads, the late great No.8 who, they said, could carry two sheep up a hill in the morning, take on the Lions in the afternoon.
The fabulous Barrett brothers learned to play rugby in school.
The wellspring remains fertile. Richie McCaw came from a farm in North Otago. Five Barrett brothers come from a dairy farm in the bush. Their old man, Kevin "Smiley" Barrett is hero of all Taranaki. His sons were unlikely to choose cricket.
Jonah Lomu came from South Auckland where schoolboy rivalry is fierce, as it is across the country. The New Zealand Herald found that some Auckland schools spend $50,000 per year on their first XV. Four times that if they tour overseas. Auckland Grammar has produced 51 All Blacks including Grant Fox, Doug Howlett and Rieko Ioane, the latest. Sir Edmund Hillary went there. He didn't make the first XV.
Auckland Grammar School's traditional welcome for rugby players from Kings College.
Like many things between our countries, Australia is same-same-but-different. New Zealand doesn't have three other footy codes and cricket ravenously competing for the best young talent, for one.
A major difference, though, according to former Otago man and director of Try Time Rugby, Mike Cross, is that rugby in New Zealand is played in schools. All the schools.
"If they've got the numbers for a rugby team, they've got a rugby team," says Cross. "It would be in 95 per cent of schools in NZ. If there's one thing Australian rugby can learn from NZ, it's getting the game played in as many schools as possible. You want to give every youngster an opportunity to play."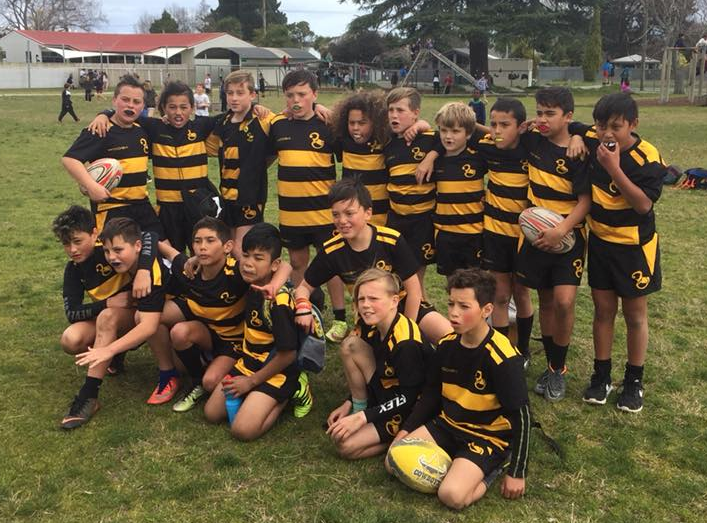 If a public school in New Zealand has enough players for a rugby team, they have a rugby team. These boys are from Awapuni School, Gisborne
Cross is at the vanguard of the movement and uniquely-placed to comment. He played Otago U/21s and in Dunedin Premier competition. He's played in Ireland, Australia and Hong Kong. He's an ARU Level 2 coach who's worked at schools and clubs for the last ten years. He's a RUPA-accredited player agent in partnership with 300 clubs worldwide.
Yet he's weaning himself off recruitment and has moved the core of his business to coaching. Today he'll train everyone from beginners to professionals. He's coached Northern Suburbs first grade, is Director of Rugby at Harbord Harlequins and Chatswood Junior Rugby Club, run the Sydney Under 19s and been involved with NSW Waratahs academy. He runs camps and programs coaching players and coaches at schools and clubs for more than 5000 kids a year.
And he tries to get the game played in schools. There have been successes and "frustrations".
"The AFL, rugby league and soccer focus on getting kids in young. Because chances are you've then got them long term. They'll head to Brookie to watch Manly, the SCG to watch the Swans.
Michael Hooper's visit to Allambie Jets' training is still being talked about by the kids today. But the man can't be everywhere.
"The AFL, particularly, has an outstanding junior presence and provides free programs in schools. And teachers and principals jump on it – You beautyI Free period! Outsourced fitness, meet some sports stars. No need for a PE teacher that period.
"Rugby, however, has struggled to compete in this space either through lack of coaching resources or by putting a price on sending coaches.
"Schools can apply for grants but the extra step restricts rugby's footprint within public schools.
"Seems it's easier for schools to choose other sports with programs in place, especially when they're free, and those sports are deemed safer."
Giving it a Try Time. Mike Cross running a camp.
Cross took TryTime to North Curl Curl and Harbord Public School and put 700 kids through a 4-week program. He's done similar at Chatswood. He reckons schools are very happy to do it but are not likely to pay for it given other sports programs are provided for free.
Cross is a professional coach. The North Curl Curl and Harbord gigs came about through his position at Harlequins JRC. Cross did it for "mate's rates".
So rather than a governing body such as Rugby Australia or NSWRU, it's the junior club paying Cross in the hope that kids will get a taste for rugby and register with Harlequins.
The success or otherwise will be seen at rego days.
WICKED SKILLS
Today Kiwis are developing players around consistent skill sets. Coaches are delivering a consistent message coming down so that, for example, when players are involved in an U/17s camp, it's the same message they remember from two years ago, and so on.
Every player goes through the same skill assessment, is given feedback on skills: breakdown, attack, running lines, passing, tackle technique. Day one of the camp, every kid gets the same assessment. So fifty kids learn the same skill set, and are given a program which they take back out to their local clubs.
Students at a New Zealand Rugby Academy are only given boots once they've graduated. The Editor made this up, of course. Formidable-looking units turned out here, just the same.
Yet Australian rugby is doing something right. Cross reckons the standard of 16-18 year olds is "phenomenal, as good as anywhere".
"There's no lack of talent. And the coaching at junior rep level is good or better than New Zealand. The stuff they're doing at the Waratahs Academy "Gen Blue", it's phenomenal, good as anywhere in the world.
"Where there's an issue is that some of the better coaches are coaching at private schools rather than clubs. There's guys getting better coaching at 17 than they are at 20, 21. They can almost go backwards once they leave school unless they're involved in the franchise academies.
St Joseph's is a brilliant rugby school that's produced 43 Wallabies. Is it a positive for Australian rugby if their coaching is better than some premier clubs'?
"In New Zealand, the majority of schools are public. And everyone gets an opportunity. Here, the majority of resources, good coaches, are at private schools."
A corollary effect is that if a kid wants to be a professional player in New Zealand – and a similar thing can be seen in league and AFL here – they need huge drive and desire to make it. A kid at a private school, on the other hand, an elite rugby player, can choose a short-lived rugby career or getting in at the ground level as a barrister, a doctor or into a family business.
"So sometime they don't actually need it," offers Cross. "They can be aged 22-23, maybe just finished a degree. Would you play rugby for fun with mates and earn a couple hundred thousand as a lawyer, or get beaten up for significantly less?"


GIVE IT A TRY TIME
Growing up and playing in Otago, and playing and coaching around the world, has left Cross with two major philosophies about coaching rugby players.
"Firstly, it has to be fun. It doesn't matter what level you're coaching, there's kids and there's big kids. They like to compete and they like to have fun. If it's a slog, or worse like a job, they can lose interest.
"The other thing is being brilliant at the basics. All my coaching is based around fundamentals: catch and pass, tackle, and breakdown. We do a lot of decision-making stuff with kids. If they can't execute a 2-on-1 to beat the fullback to score, it doesn't matter how good your scrum or lineout was. No try.
Giving it a Try Time.
Guardian journalist Andy Bull wrote a piece in 2015 titled: "The making of an All Black: how New Zealand sustains its rugby dynasty". In it Bull explains that in New Zealand, "catch" and "pass" have almost come to be conflated into one word: "catchpass". "This is the fundamental skill, the first thing learned by kids, and still practised hard by the professionals," writes Bull.
Says Cross: "You can always build your game if you're brilliant at the basics. You can't teach intricate backline moves in U/10s when catch pass skills aren't there yet.
"As I always tell coaches – build the floor, then the walls, then put the roof on."
A two-day camp can give young rugby players as much coaching in two days as they might receive in a season.
Cross says camps should focus on fun and skill development which "leads to enhanced confidence whether they're rugby players or thinking about it".
"It's a good chance to practice things pre-season.
"The key is learning safe practice and repeating safe practice. An amateur coach, a dad, might spend 15 minutes on a tackle drill at training with 15 kids, and each kid's made two tackles, both incorrectly. That's not necessarily the dad's fault.
"But if I've got them all day we can make sure they improve their tackling."
A rugby season is 12 weeks long. Some young ones might train once a week and thus learn 12 hours of actual rugby training time.
"At a camp, they do that in two days they're with us so they're essentially doubling their training in a two-day camp."
Mike Cross's Trytime Rugby offers the pathway for players from junior through to professional. For dates and information about camps, click here or on the big picture following.