Peninsula Raiders were up against it - indeed to say they were the underdogs in the grand final against the Marlins would be an understatement.
They had lost 5-2 to the Marlins in the preliminary finals, 5-2. They were down a key player and pitcher, Gracie Tetz. Even their coach, Kellie Cohen, was missing as her other younger team were also playing a grand final game in the next diamond over.
The nine remaining players faced off against a stacked bench of thirteen veteran Pittwater players, including an U/18 rep and NSW players. Rumours flew that Peninsula had not won the Div 1 championship in twenty years, and they would no doubt fall at the last hurdle today. There was even talk of a blow-out in the pre-game banter.
Five minutes before the first pitch, coach Cohen ran over to give the Raiders a final pep talk. She told the Raiders they didn't need her to win. They were in charge of their own destiny. They had to believe they could do this. They had each other, and they had played so well all season as a team. They just had to do it one more time.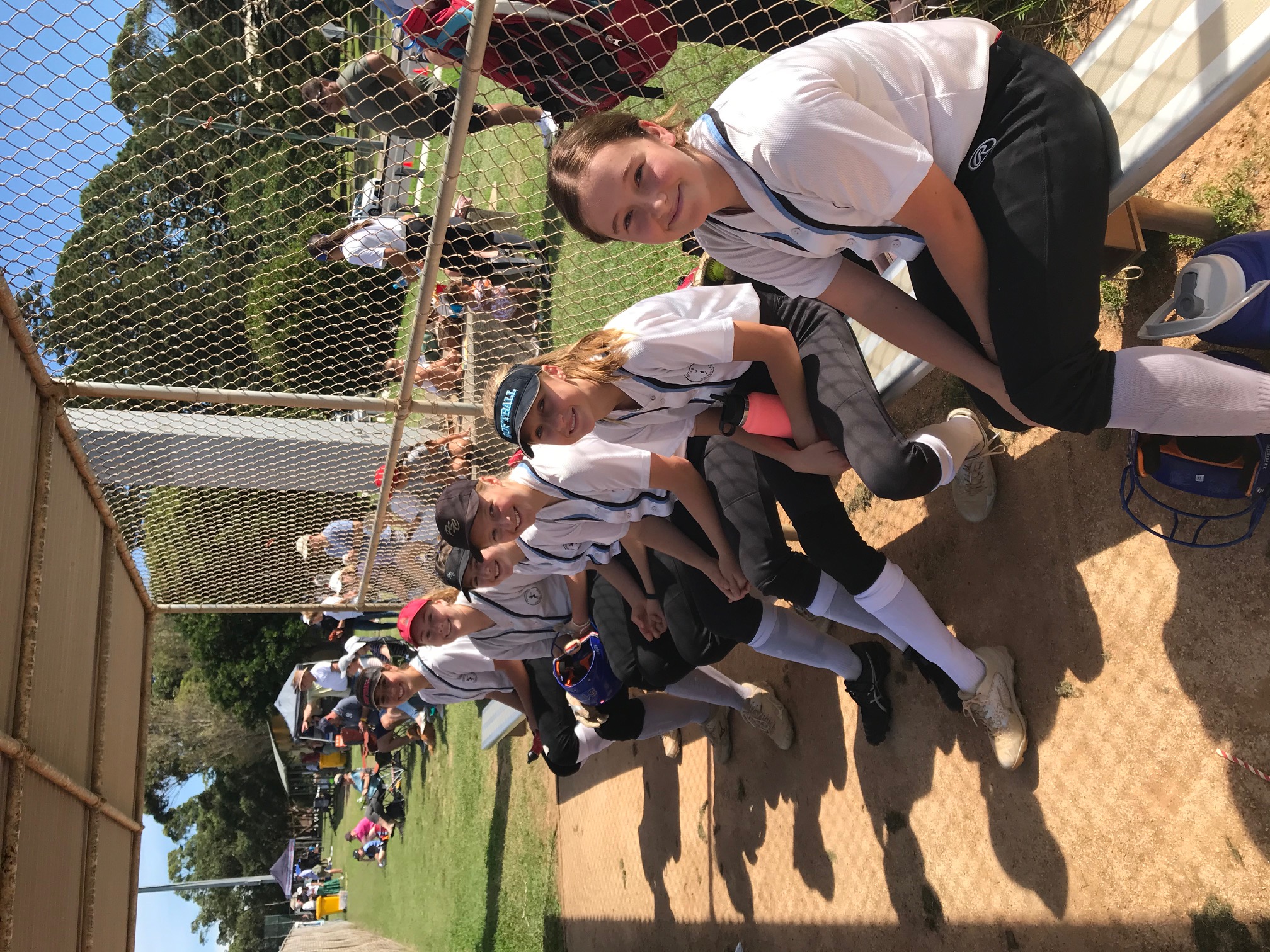 Champions: Peninsula Raiders are U/18 premiers of MWSA.
For some insurance, Kellie called on friend and veteran coach, Jess Squires, who had led the Rebels this past year, and mum Gai Cohen, long-time Peninsula player, coach, committee member, and ardent supporter, to help calm the nerves in the dug-out and keep the Raiders on track.
Once again, it came down to a tight pitching duel in a classic softball grand final. On the Marlins side, Alyssa Charter-Smith, an U/18 representative player with a fierce fastball and a range of speeds in between.
For the Raiders U/16 rep and NSW player, Kirra Gilchrist, was summoned to take the mound. Gilchrist had just sprinted from another Grand Final – in the IGSSA – where she helped lead Brigidine to victory over Abbotsleigh 9-3. She had already pitched five innings, but she was ready to light up again, buoyed by the first victory of the day.
Hits were always going to be hard to come by, but no one was prepared for the barrage of fast-paced strikes coming from the Marlins' Charter-Smith. In five innings, she struck out an incredible ten batters, blunting a usually feisty offence from the Raiders.
But the Raiders somehow managed to draw first blood. Batting at the top of the first inning, they took advantage of opening nerves when Gilchrist reached 1st on a fielding error. Issie Frew then moved her around to third with the first of her three hits off Charter-Smith - who only allowed six in total. Twin sister Ingrid Frew then drove them both home with a solid single up the middle.
The Raiders added a third run in the third inning with some crafty play - orchestrated by stand-in coach Squires. Jess Fraanje reached first base on a fielder's choice. But it was a foothold. Ingrid Frew moved her to second after a fielding error. Coach Squires then signalled a bunt to the usually free-swinging Carys Thomas-McDonnell. She played her part and brought Fraanje around to third base with a perfectly executed bunt. Squires then sent the speedy Fraanje home on a wild pitch to Kirra Wilkins. It was close - but Fraanje just managed to evade the tag to bring the score to 3-0.
But nobody was relaxing, not with the firepower on the Marlins bench. The Raiders had learned that lesson in the preliminary final.
Gilchrist worked miracles on the mound, teaming with catcher Thomas-McDonnell to bamboozle the Marlins' batters with a growing repertoire of rise balls, change-ups, and fastballs, carefully placed to throw the Marlins' batters off balance. Across five innings, Gilchrist allowed only two hits in her Grand Final shut-out, and struck out four.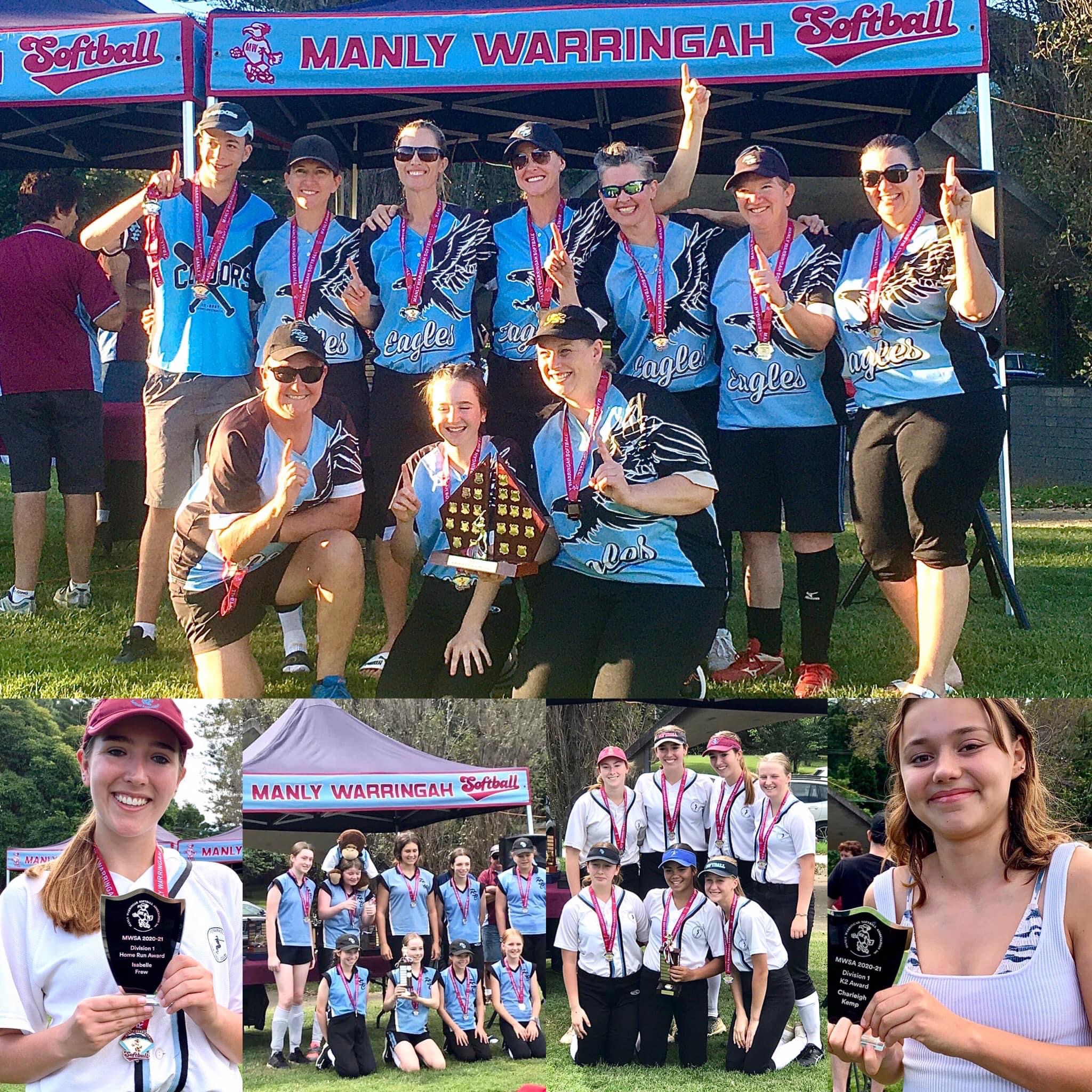 The Eagles were among three teams to win championships for Peninsula Softball Club.
As the stats will attest, Gilchrist's extraordinary efforts were backed up by an incredible fielding display. Every time the Marlins threatened, the Raiders shut them down. There were only two fielding errors across five innings, and in both instances the Raiders immediately made-up for it with some sparkling play.
Talea Tonga, Ingrid Frew, and Emily Harrison patrolled the outfield with vigilance - nothing got past them. Jess Fraanje and Kirra Wilkins made for a dizzying combination at second and shortstop. Issie Frew and Anna Butler were flawless on the corners. No one put a foot, throw, or glove wrong. It was a master-class in fielding.
It had to be. With ten minutes to go, and the Marlins at the top of their line-up, in the bottom of the fifth, everyone sensed a possible late - and potentially heart-breaking - comeback. Catcher Bethany Lever of the Marlins raised the blood pressure of all Raiders' supporters with a lead-off single up the middle. Peyton Henderson (one of three sisters in the Marlins) came to bat and hit what looked sure to be another single, but Jess Fraanje somehow snatched it mid-air and with characteristic smart play tagged Lever who was sure the ball was heading to the outfield.
Still, the Marlins would not give up. Pitcher Charter-Smith smacked a hard grounder to third, causing Butler to bobble the ball long enough to allow Charter-Smith to get to first. Then, NSW representative player Tallulah Lewis stepped up. In the preliminary final, she had smashed a home run against Gilchrist. In her previous plate appearance, she had hit one of the Marlins' two singles - a hard line drive that would have gone for more if not for some great fielding by Ingrid Frew. With the first pitch, Lewis swung wildly as a screen to allow Charter-Smith to steal second. She then smashed the second pitch a mile high in the air but fortunately into foul territory and out of play. She was thirsty for a big hit. But Gilchrist and Thomas-McDonnell conspired to jam her with an inside pitch. Lewis took the bait, and smacked an awkward grounder toward third. Anna Butler was not going to bobble this one. She scooped it up and, under immense pressure, threw Lewis out at first to snuff out the Marlins' last chance.
The Raiders supporters could hardly believe it. Even some of the players would admit they did not fancy their chances. But their steely play belied any nerves. They believed in themselves - and brought the trophy home.

The girls were cheered on by many friends, family, and supporters. At least three generations watched on. But the most vocal supporters were the tiny teeball players from the Peninsula Flamingos. They had won their own final game that very morning. Now, they had come to see and cheer on the 'big girls' - especially their assistant coaches, Kirra Wilkins and Carys Thomas-McDonnell. They weren't disappointed - and Wilkins and Thomas-McDonnell can't wait for them to follow in their footsteps.
As the girls celebrated their win, more good news came in. Coach Cohen pulled off an impossible double-victory, when her Division 3A team simultaneously won their grand final over on Diamond 2. Cohen had runners moving back and forth keeping her up to date with the score, and she had eyes on both games.
Cohen said she was so so proud of the girls. Manager Belinda Frew, was ecstatic, and justly beaming about the contributions of her twins - and all the players. Coach Squires said they played out of their socks, while Gai Cohen said they were simply sensational!
Sweeter still was the fact that the Frew twins, Jess Fraanje, and Anna Butler, were all coming to the end of their Junior careers, and playing their last season as U/18s. Butler had just been given a ten-year service award by Peninsula, and to honour their collective contributions to the Club, the girls had been put in charge of announcing and handing out all the Club awards the previous weekend. They have been terrific role models for all the younger players. But amazingly, they had never played in a grand final for Peninsula, let alone win it. So, this was a terrific way for the girls to end their Junior playing careers.
Finally, the day was topped off by even more good news for Peninsula. The Diamond Doves had won their Div 2 clash with the mighty Monte School team!
We then learned that Izzie Frew from the Raiders had won the MWSA award for most home runs across Division 1. Charleigh Kemp from the other Peninsula Div 1 team, the Rebels, also picked up an Association award for most K2s in Division One. In the Senior Women's Grades, Amelia Achterstraat was awarded the Senior Home Run Award. All remarkable achievements given the numbers and quality of the players across the Association.
Advertisement:
But there was one last drama. Before they could collect their medals and pose for the team photo with their trophy for the Raiders' victory, the two Kirras - Kirra Gilchrist and Kirra Wilkins, had to race over to Diamond 3 for one more grand final game with their Senior Women's team in A Res, Eagles Black. The Eagles were facing off against their A Reserve rivals, the Psychos. Two years ago, they were beaten by the Psychos. Last year, because Covid hit before the grand final could be played, the Eagles were awarded the Championship as they finished the season ahead on the ladder. Now they could prove they deserved it.
In another incredibly tense pitching battle, with Gilchrist yet again on the mound – for the third time that day - the game went to the last inning 0-0. The Psychos then scored two in the top of the last inning. It looked like it was all over for the Eagles, but they rallied in the bottom of the inning and levelled the scores as the regular innings came to an end.
Then came a tie-break. Gilchrist wrestled the Psychos out of the inning, again backed up with an incredibly nervy fielding display. Eagles Black came up to bat, and Kirra Wilkins managed a clutch single to move the runners around before Stacey Hutchinson smacked a winning single to give the Eagles the Championship – and Gilchrist an incredible hat-trick of Grand Final wins in a single day!
Many congratulations to all the Grand Final champions, and also to our Peninsula runners-up on the day as well – the Condors, Strikers, Bandits and Phoenix.
Peninsula Softball Club would like to thank our great supporter Yes Pizza. Click here for delivery.
To publish a match report about your team's game last weekend, email all the details (and pics) to Tribune editor Matt Cleary.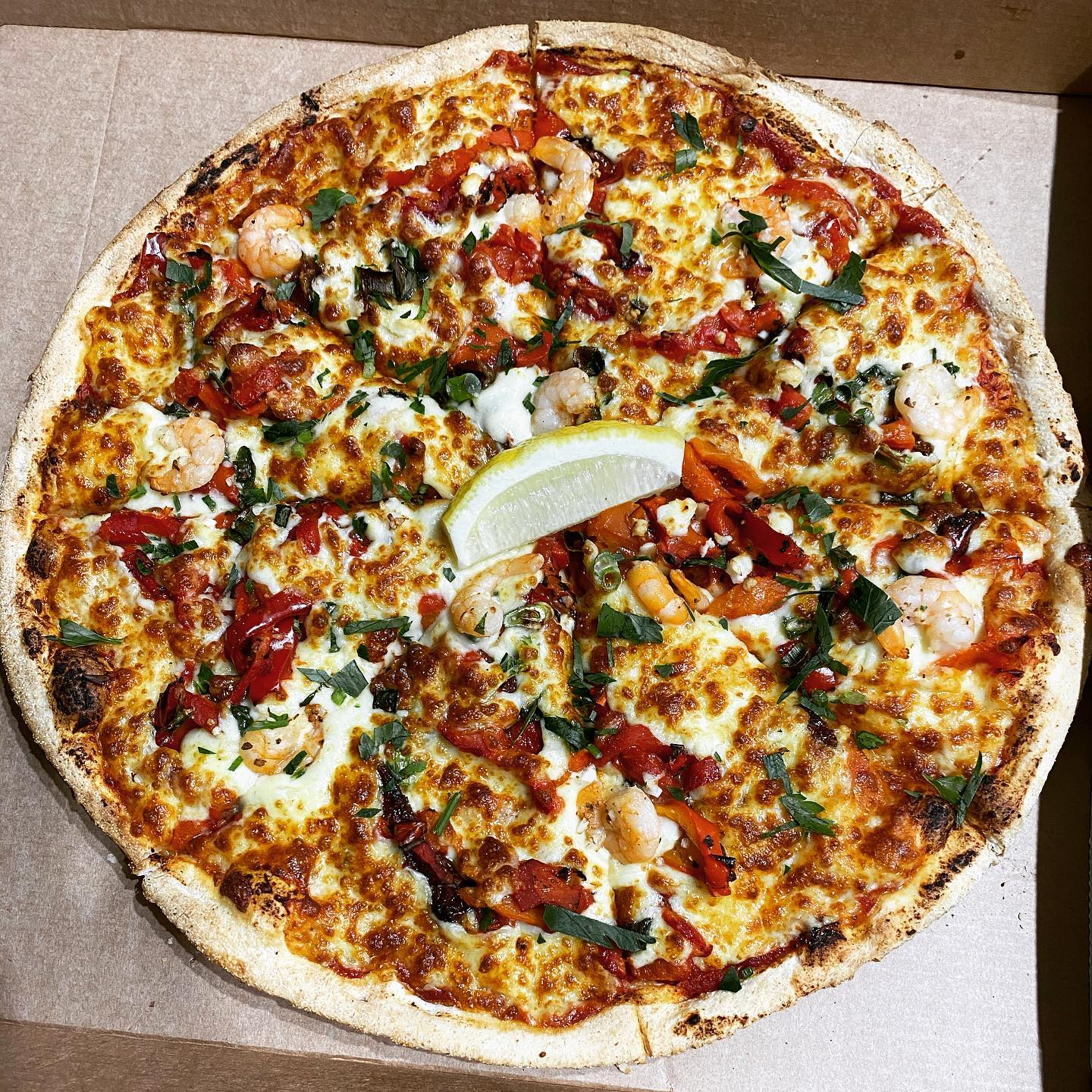 If you'd like to see more content from Peninsula Softball Club, they'd be very grateful for your support and contribution. Peninsula Softball Club will receive 80% of all funds contributed.