NSW Blues coach and proprietor of Warriewood cafe Kanteen, Brad Fittler, handed over a $60,000 cheque to Father Chris Riley from Youth off the Streets at the NSWRL Centre of Excellence in Homebush on Tuesday, taking the total amount Hogs For The Homeless has raised for the charity to more than $760,000.
Fittler was joined on this year's Hogs For The Homeless charity tour by True Blues Danny Buderus, Nathan Hindmarsh, Steve Menzies, Mark Hughes, Beau Scott, Michael Buettner and Mark O'Meley, NSW Women's Origin captain Kezie Apps, Rugby League legends Ian Schubert and Nathan Blacklock and former NRL coach Neil Henry.
The tour covered more than 4200km in nine days across eight regional NSW towns with the highlights including giving away 5000 footballs, handing out football boots to a school of only 13 students in Brungle, delivering a new bus to Gadara School for Specific Purposes in Tumut and finishing with a field re-turf at Jasper Road Public School.
Former Manly Sea Eagles legend Steve Menzies (left) with fellow Hogs for the Homeless Danny Buderus, Nathan Hindmarsh, Brad Fittler, Josh Perry (Manly 2008-10) and Ian Schubert
Fittler was later joined at the NSWRL Centre of Excellence by almost 100 students from across six schools for a Youth off the Streets gala day where he could see firsthand the positive impact Hogs For The Homeless has had on children in need.
"Hogs For The Homeless has been a massive part of my life since we first started six years ago and I look forward to the ride every year," Fittler said.
"This year we went all around regional NSW and there were plenty of highlights including dropping a new bus off to the students at Gadara School for Specific Purposes. I can still see the excitement on the kids faces when we rode into the school and I'm glad we could help make a difference.
"I enjoy catching up with all fans across the great state of NSW during the ride and it's a humbling experience to realise a visit from the Hogs can make them forget their troubles for a while.
"The 2019 ride will go down as one of my most satisfying yet and I can't thank everyone enough who dug deep to help Father Chris Riley's Youth off the Streets."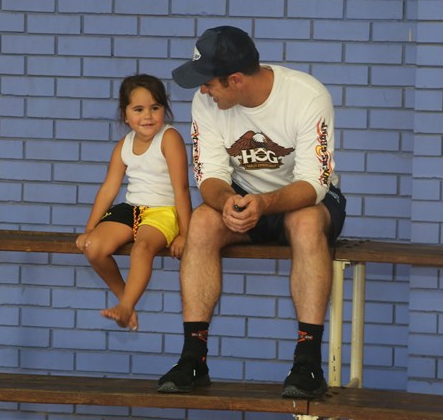 "You want to play who in the centres?" - Brad Fittler receives coaching advice from a Blues fan.
Father Chris Riley said: "I would like to thank all those who organised, sponsored, partnered with or simply donated to the Hogs For The Homeless ride in 2019.
"It's such a special event on my calendar and I always look forward to seeing what can be accomplished when great people come together.
"Now, more than ever, we need to come together to support young people in need and events like the Hogs For The Homeless ride are essential in helping us do just that. As always, the funds raised will contribute to the services we offer and will help young people unlock their full potential."
Hogs For The Homeless was started by Fittler, Schubert and Hindmarsh in 2013.
This year the NSW Police and PCYC joined forces with the Hogs to deliver an important message about children's fitness while Australian-owned energy provider Red Energy helped with bus modifications.
Donate directly to Father Chris Riley's Youth Off The Streets by clicking here.