On Saturday February 29 the Bei Loon Dragon Boat Club conducted its annual 8km Challenge Race out of Rowland Reserve, Bayview.
Crews raced from Rowland Reserve to Church Point, around Scotland Island, back to Church Point and back home into Winnererremy Bay.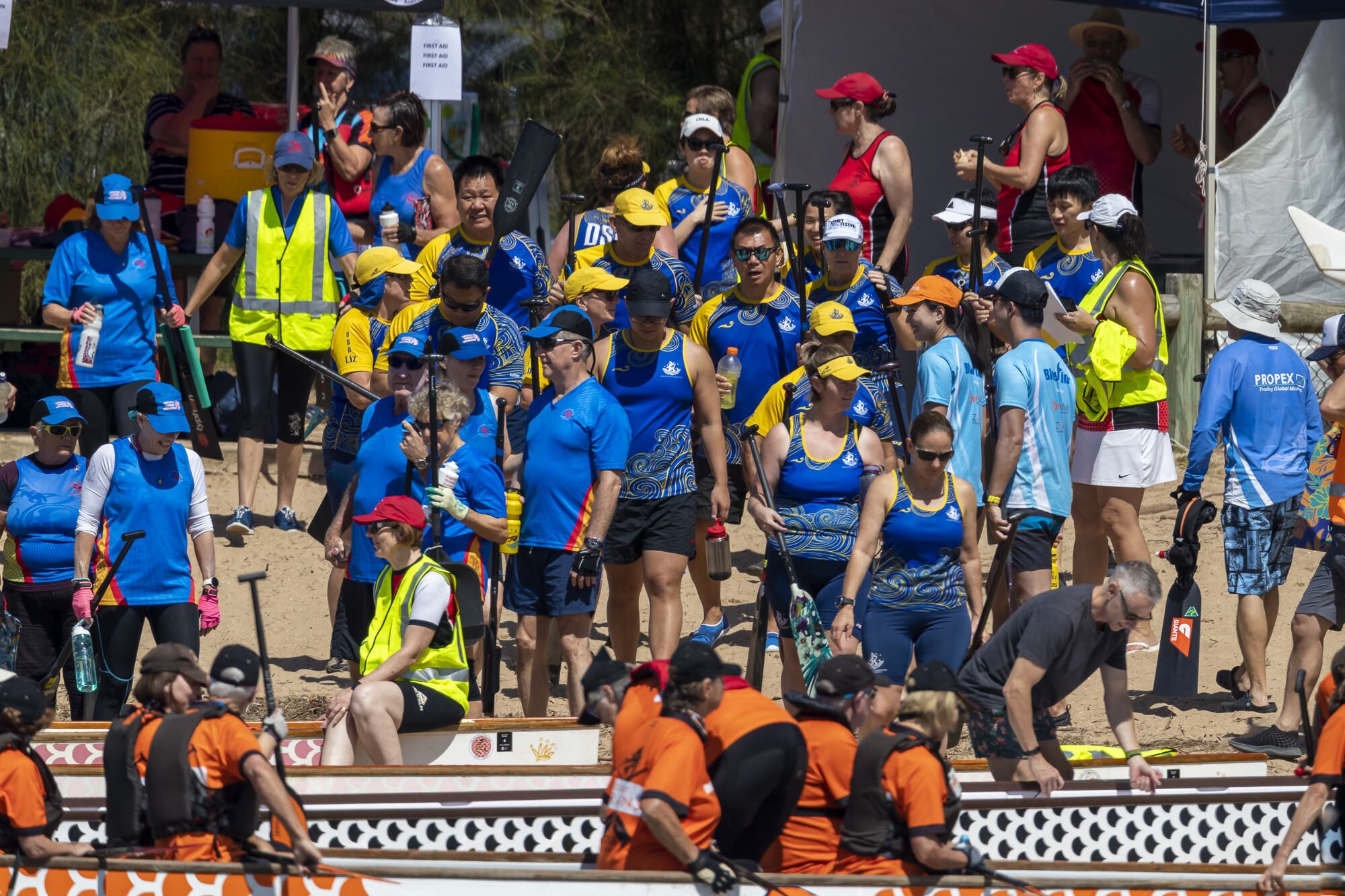 Contestants prepare for the Bei Loon 8km Challenge at Bayview.
Each of three races consisted of five crews per race, and clubs came from Parkes, Orange, the Illawarra, Nowra and Canberra.
"It was a great day out on the water," said Race Director George Webster. "Wind conditions are always our main concern but on the day they were excellent, very mild, unlike recent seasons.
"Several of our visiting clubs were awed by our northern beaches location, coming as they had from areas either drought-ravaged or impacted by the bush fire crisis."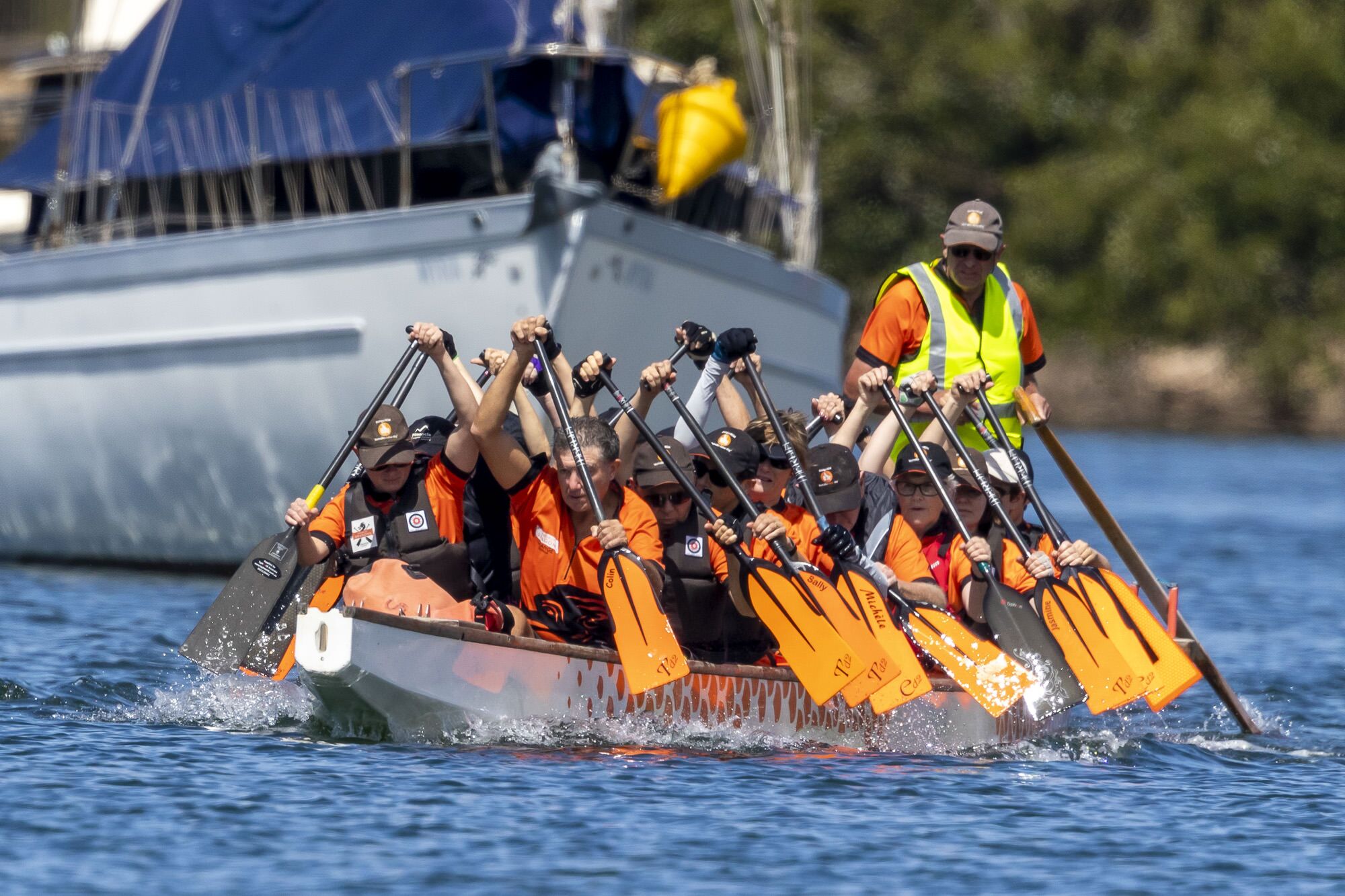 The orange-clad crew from Orange power through the Pittwater.
According to Webster, most monthly Dragon Boat regattas are held over the sprint distance of 500m. "So having a longer hit out creates a lot of interest and provides a very different challenge.
"Many crews are preparing for the Australian Championships at the International Rowing Centre at Penrith over Easter. So our event provides a great base and training platform for the six weeks of specialist training to come."
The event was won by Bei Loon's sister club Pittwater in the excellent time of 46 minutes 54 seconds.
"It was very nice that as well as the racing, paddlers and supporters were able to relax and partake in a free barbie in the lovely beach-side precinct of Rowland Reserve."
Webster added that Bei Loon has two Masters crews - the over 40s women and over 50s mixed - competing in August in the 12th International Dragon Boat Federation Club Crew World Championships in Aix-Les-Bains, France.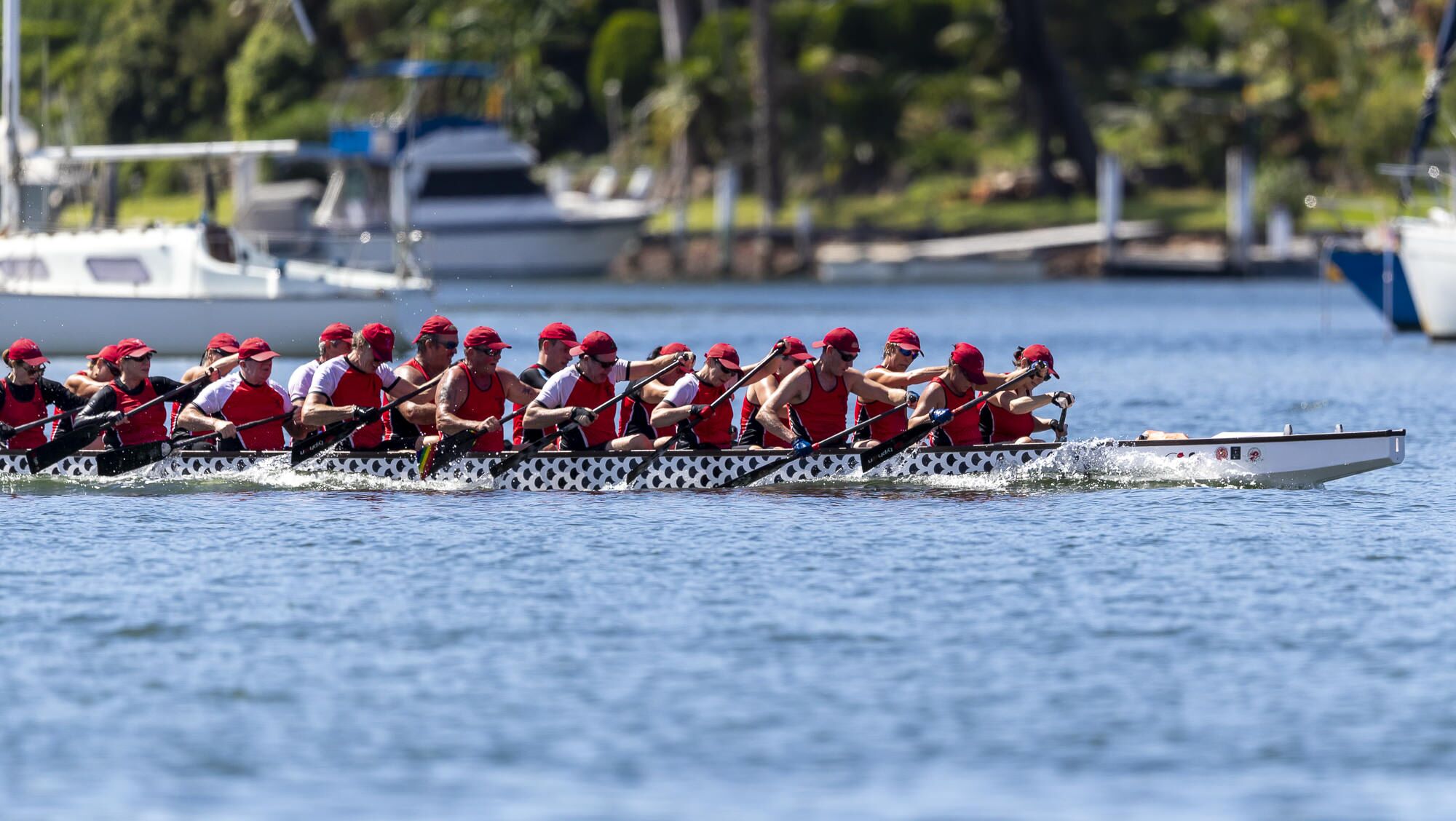 Bay looming: Host club Bei Loon powers to the finish of the 8km Challenge.
Bei Loon has operated at Bayview since 2003. The club has won medals at state and Australian Championship Regattas, and still holds four NSW race record times. A number of club members competed for NSW and Australia.
The club is particularly proud of the "Pittwater Pinks", a crew of breast cancer survivors who train with Bei Loon three times a week.
Webster says that the club is "always looking for new members particularly those who wish to compete and have fun doing it".
"If people are bored by their current exercise regime, or maybe their knees aren't coping with running, or swimming along the black line in the pool's not doing it for them, dragon boating is a way to be competitive, stay fit and make new friends.
"It's a high intensity, low impact sport."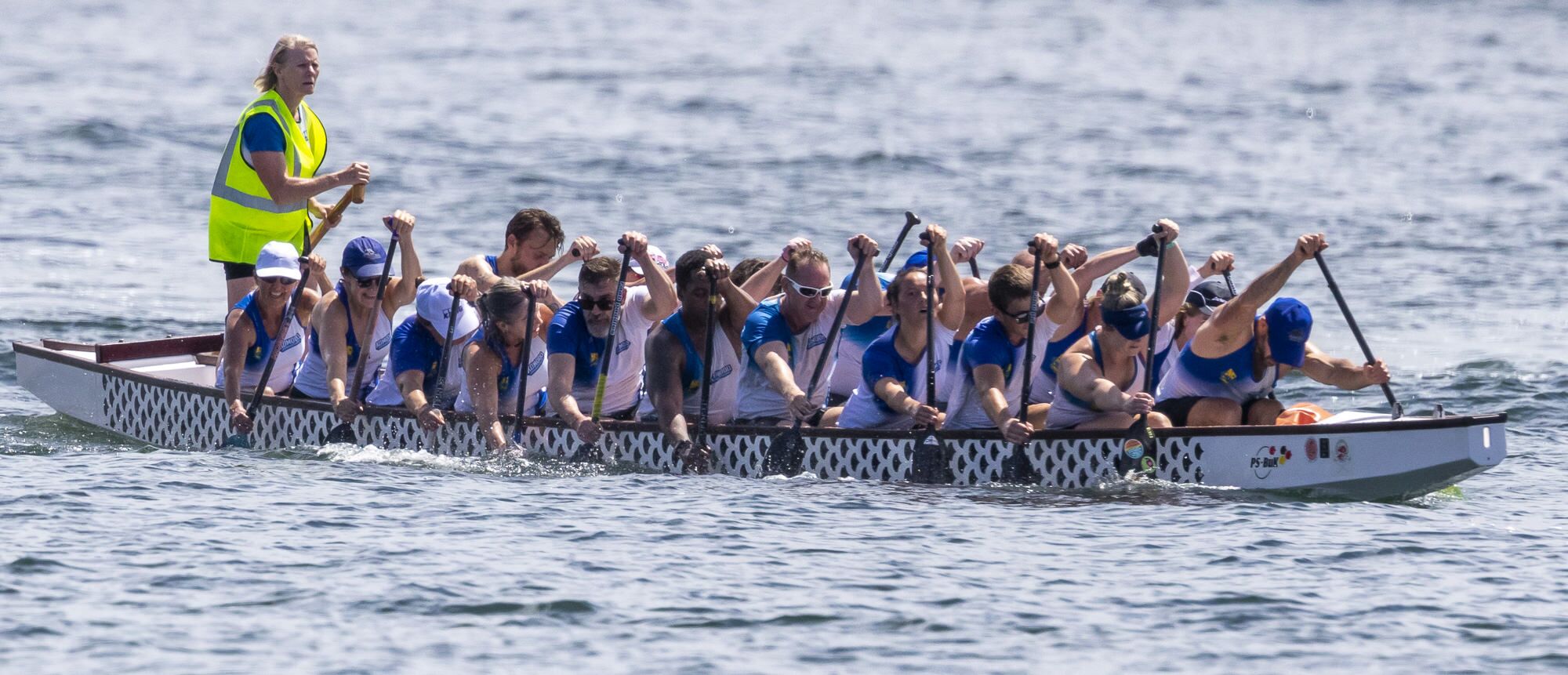 Long way from Burley Griffin: Canberra's Komodo Dragon Boat Club paddling home.
Webster says anyone interested in giving it a try can come to Pittwater for a "guest paddle".
"There's no need to commit to membership until you've had a go at it a few times.
"We'll supply the paddle and all people have to do is to make contact and we can get them up to Bayview for a visit."
Click on the ad for more information:
If you'd like to see more content from Bei Loon Dragon Boat Club, they'd be very grateful for your support and contribution. Bei Loon Dragon Boat Club will receive 80% of all funds contributed.