So I wrote this column last Saturday morning but thought it sounded a bit corny so it wasn't posted. Subsequent and not unusual comments I heard this week make me happy I didn't delete it.
They came from three people I know and were pretty much word-for-word: "I hate the Roosters."
This is nothing I haven't heard thousands of times before and let pass.
But this time, with the column idle and in the back of my mind, I asked a one word question: Why?
One answer was: "I just hate them, always have." Again I asked: why? Answer: "I just do."
Number two, same question: why do you hate them?
Answer: "They are from over there and are uppity, the latte set."
From the third person there was no explanation at all. Maybe he'll have thought of an answer by the time this column goes live.
Regardless, I don't buy this purported "hate" or whatever confected rubbish some would-be "uncompromising", supposed rugby league supporters go on with.
He loves to beat them. But hate the Roosters? Not a bit of it. Mascot President Frank Cookson greatly admires the Roosters.
Being around a long time, and a Souths supporter from day one, it certainly isn't part of my heritage, upbringing or mindset. Indeed I admire the way the Roosters run their club on and off the field. It's totally professional.
I have heard all the know-alls and their stories about "Uncle Nick" and his brown paper bags. It's laughable. But if it gives the haters something to stew upon between games and throughout the off season, so be it.
Maybe reading the Book of Feuds adds fuel to the fire for some Souths supporters. But only having access to the snippets reported in newspapers, I couldn't tell you.
I've heard it said, jokingly, that "The Book" could be classified as an R-rated version of Aesop's Fables - again I wouldn't know. I think the way it's promoted is childish.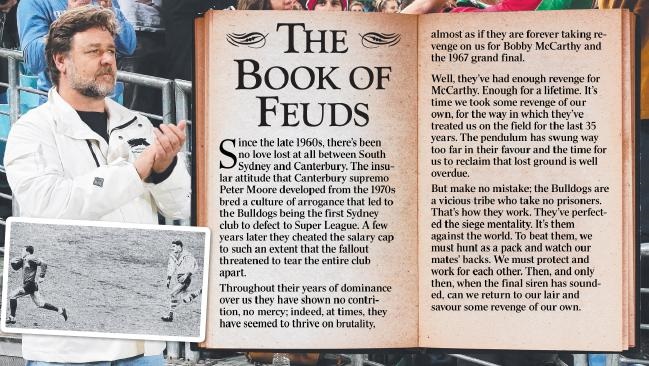 The promotion of South Sydney's Book of Feuds is "childish" according to Mascot President Frank Cookson.
In the early 2000s (sounds a long time ago!) I did a bit of a "turn" for the Roosters, and Nick Politis had the then-CEO make personal contact to thank me.
Wasn't necessary for him to do so but it was appreciated and of course remembered. Elsewhere my favour may have been passed over.
Other stories should shed a different light on the Roosters. One such story is this:
A few years ago, one of Mascot's young guys, aged 18, was graded and about to embark on a lifetime dream to play for Souths when he was overcome by what was thought to be a sore throat.
As a precaution the doctor sent him for tests and the diagnosis came back: Non-Hodgkin's Lymphoma.
The usual forms of cancer treatment followed, all to no avail, so his multitude of friends, aided by our club, held a benefit to raise funds for the young man to venture overseas for treatment.
The function was organised and the support of NRL clubs was sought. Most came to the party with signed jerseys and so forth to be raffled.
With the Roosters it was different.
I should clarify the young guy's older brother was either playing in France or for the Chooks' feeder club Newtown at the time, I can't remember which. But he had played an NRL game for the Roosters.
Subsequently I received a telephone call from the Roosters' board secretary advising that Nick had said: "We are going to go all out supporting this cause". I was asked what we wanted. During the conversation the lady, whose name eludes me, suggested we leave it in her hands to rustle up some prizes, which was agreed to.
"He went all out for us in a time of great need," says Mascot President Frank Cookson of Nick Politis.
The next telephone call from her detailed most of what the donation would include:
There were signed Roosters jerseys, along with training gear, playing gear, match-day dress gear.
There was an all-expenses paid trip for two to Bali (courtesy of the players). There was a fully catered box at the Golden Slipper at Rosehill. There was a fully-catered box at the NRL grand final.
That was before several other extras, courtesy of Roosters sponsors, and the fact they purchased admission tickets to the function.
The club, with Nick Politis driving it, did what they could and more.
So, maybe some of these types who relentlessly bag them should think on this the next time they're "hating" the Roosters.
They should also think on this: there are two sides of a football club, business and benevolence.
And the Roosters rate highly in both.
If you'd like to see more content from Frank Cookson, they'd be very grateful for your support and contribution. Frank Cookson will receive 80% of all funds contributed.