1. Eric Simms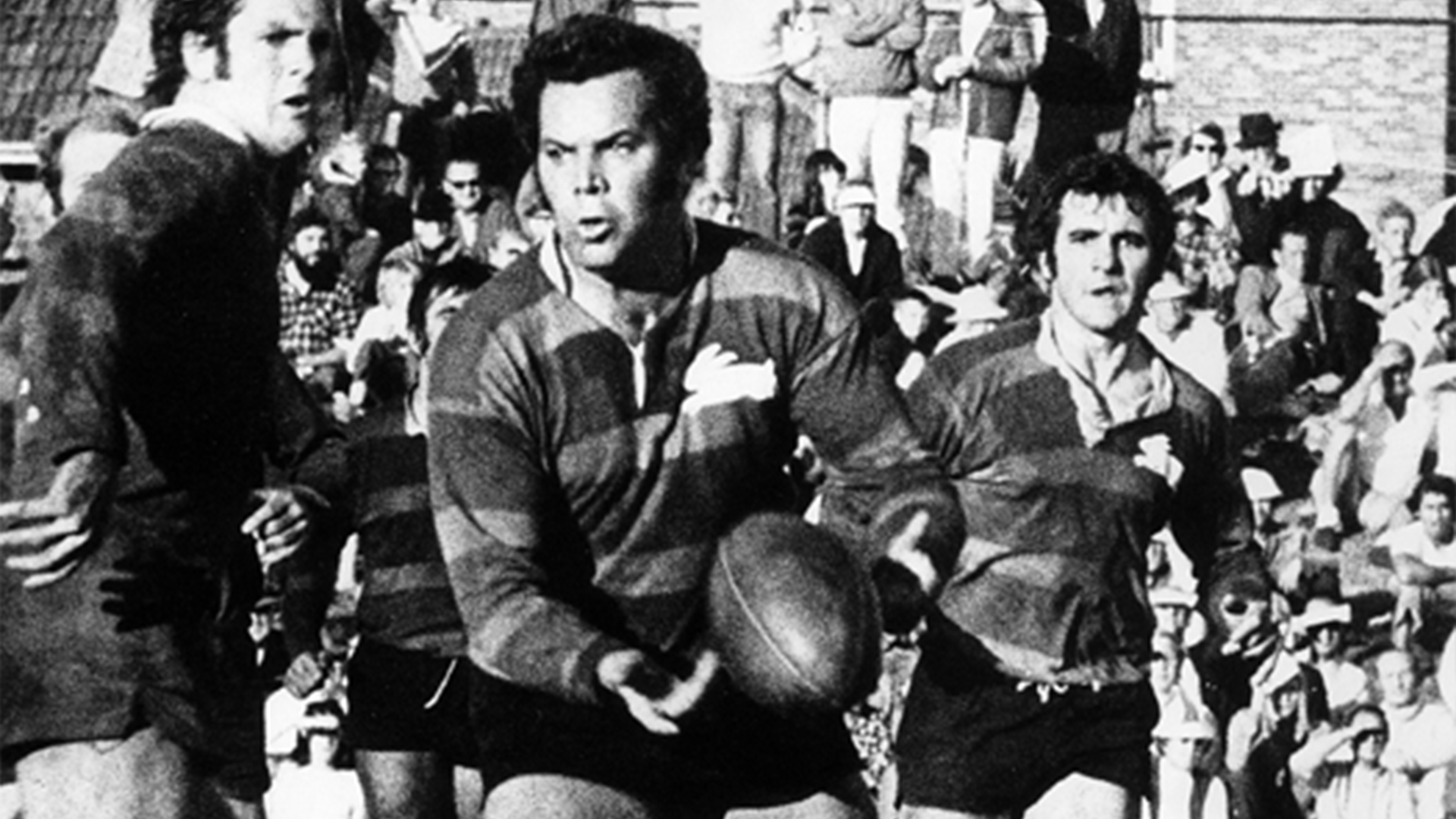 Under-rated full-back and freakish goal- and field goal-kicker. Once kicked five field goals in 10 minutes against Penrith Panthers at Penrith Park in 1969, taking the score from 30-18 to 40-18. After kicking a record four field goals in the 1970 grand final win over Manly 23-12, the NSWRL reduced the value of the field goal from 2 points to one point. Simms played 206 first grade games from 1965-75, scoring 23 tries, 803 goals and 86 field goals for 1,841 points.
2. Michael Cleary
Speedy winger from Randwick rugby club and a 1962 Olympic Games sprinter. Whenever he had the ball, the crowd would rise in anticipation. Played 139 games 1962-70 scoring 88 tries and one field goal. Scored a runaway try in the 1968 grand final win over Manly 13-9, picking up a loose pass from Bob Batty to Les Hanigan and sprinting 90 metres to score beneath the black dot.
3. Greg Inglis
Champion indigenous centre and full-back. Freakish ability to break the line. Superb athlete. Joined Souths from Melbourne Storm in 2011. Rated one of the best signings in Souths history. Football manager Shane Richardson received a phone call at the Souths Football Club office on Christmas Eve 2010 from Inglis' agent telling him that they had agreed to terms. Richo put the phone down and declared "We've just won our 21st premiership". Within four years it was true. Retiring at the end of 2019, Inglis played 146 games scoring 71 tries, including the unforgettable one in 2014 against Brisbane Broncos at Suncorp Stadium, beating nearly the whole team in a 70-metre run.
4. Paul Sait
Mr Versatility. Talented all round player. Preferred position lock forward, but played in the centres because Ron Coote played lock. Loyal clubman, played all his career with Souths 1967-79 appearing in 165 games scoring 30 tries. When Coote left at the end of 1972, Sait covered nearly every position, playing in the centres, five-eighth, lock, second row and prop forward.
5. Ray Branighan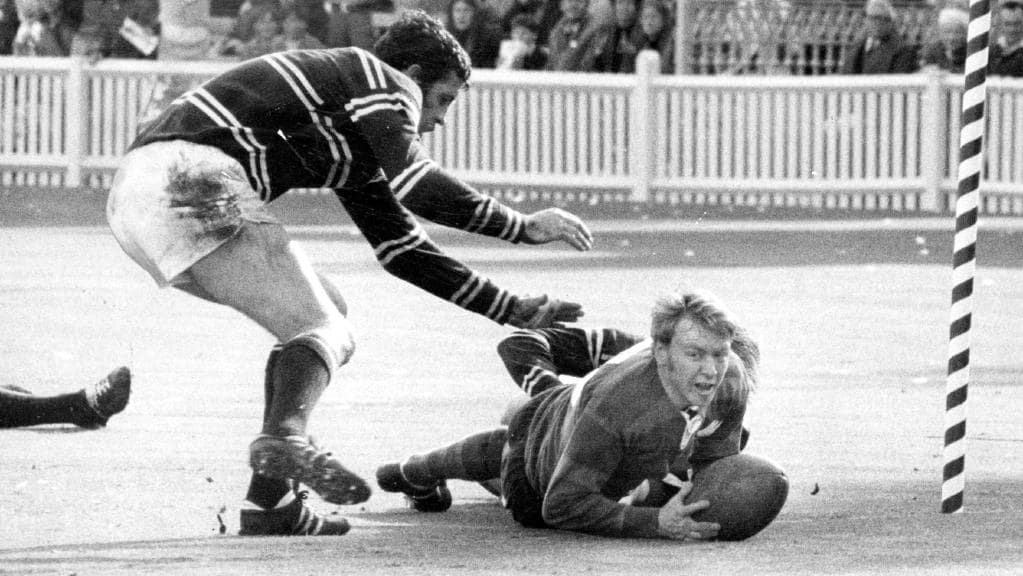 Utility back played in seasons 1967-71 in 55 games, scoring 26 tries and 31 goals before joining Manly.
6. Denis Pittard
Will o' the wisp five-eighth who joined Souths on 30 June 1968 from Western Suburbs on an 8,000 pounds transfer fee. The team had been struggling and Pittard added much needed spark. Souths went on to win successive premierships. Pittard played in seasons 1968-73 in 121 games scoring 56 tries before joining Parramatta in 1974.
7. Bob Grant
Joined Souths from Balmain. Played in seasons 1966-75 in 134 games scoring 20 tries and 4 field goals. Gave his outside backs slick service from the scrum base. Scored two tries in the 1970 grand final win over Manly.
13. Ron Coote
Champion running lock forward with superb cover defence. Nicknamed "Solid" by coach Bernie Purcell because he was solid as a Sao biscuit. Knew exactly when to nail runaway wingers using his speed. Rated by Bob McCarthy as among the top-5 players of all time. Played in seasons 1964-71 in 148 games coring 48 tries. A family, all Souths, owned a pet rabbit they called "Ronnie Coote". When he defected to the arch enemy Eastern Suburbs, the family wrote to Coote telling him they'd skinned the rabbit and eaten it. A gypsy woman also put a curse on him for life.
12. Sam Burgess
Rated one of the best English forwards to play in Australia. Joined Souths from Bradford Bulls and played in seasons 2010-14;16-19, in 182 games scoring 44 tries. Played for Bath Rugby in 2015. Suffered a fractured cheekbone in the first tackle of the 2014 grand final taking the ball up from the kick-off and colliding with his England team-mate and close friend James Graham. Retired medically at the end of 2019 with 2 seasons left on his contract due to a bad right shoulder.
11. Bob McCarthy
Beautifully balanced runner known as "The Body". Scored 100 tries and one field goal in seasons 1963-75 and 78 for Souths using his massive frame and speed to scatter defences. Played a record 212 games before John Sutton broke the record in 2015. Scored the decisive try in the 1967 grand final win over Canterbury, intercepting the ball and running nearly the length of the field to touch down under the posts. Was instructed by coach Clive Churchill to play wide in the centres, drawing criticism from some representative selectors, ending in his shock non-selection in the 1967-68 Kangaroo squad. At the end of 1975 Souths' secretary Charlie Gibson told him that they didn't think he was as good as he used to be. Canterbury boss Peter Moore found out, rang him and said 'I'd like you to play for Canterbury'. McCarthy replied, "I could never play against Souths". Gary Stevens told him 'give it a go' so McCarthy joined Canterbury and gave them great service over two seasons. At the end of 1977 the same Charlie Gibson rang him and said, 'Bob, we've just signed Jack Gibson as coach, we'd like you to come home'. Bob said ' You told me I was too old 2 years ago!'. Nevertheless McCarthy returned home for one last season.
10. John O'Neill
The 'roughest, toughest and meanest front-row forward to play for Australia', according to legendary St.George half-back Billy Smith. Fearless enforcer nicknamed "Lurch". In 1971, round one at the SCG he was having a big game, taking the ball up time and time again dragging would-be defenders with him. Smith was getting tired of it so decided to give Lurch a stiff-arm tackle to try and slow him down. O'Neill never blinked and kept charging trough the rucks. Smith soon felt a sharp pain in his arm. A couple of minutes later he received the ball and ran into Gary Stevens, a particularly hard but clean player. Stevens upended Smith who put his sore arm out to cushion the blow. His arm crumpled into pieces. O'Neill came from Gunnedah to play for Souths in seasons 1965-71 before defecting to Manly. He returned in 1976 for one last season before coaching them in 1977.
9. Elwyn Walters
Great running hooker from dummy half, nicknamed "Aubrey". Rewarded with a Kangaroo jersey following a rousing game in the 1971 grand final. Came to Souths in 1966 from Tweed Heads, played 128 games scoring 17 tries in seasons 1966-73, before joining Eastern Suburbs in 1974. He finished his career at Manly in 1978.
8. John Sattler (C)
Famously had his jaw smashed in the opening minutes of the 1970 grand final by rival Manly forward John Bucknell. "Satts" came down from Kurri Kurri as a lock forward to play 195 games all in first grade in seasons 1963-72, before moving to Brisbane Wests in 1973. A firebrand in his early years, according to Bob McCarthy "he couldn't help himself". Calm before a game, once the referee blew time on, his eyes would spin like poker machine reels. Sattler settled down after coach Clive Churchill made him captain in 1967. Made the transition from lock to second row to prop forward.
14. Bob Honan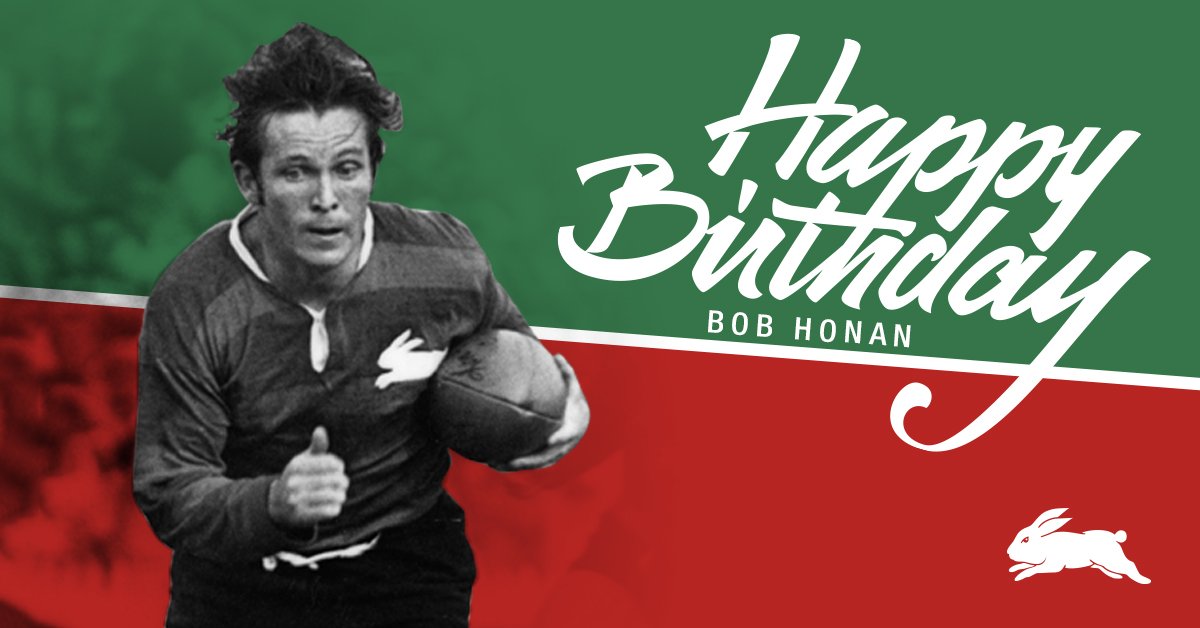 Rugby convert, played in the centres in the 1968, 70 and 71 grand finals. Came on as a replacement late in the 1969 grand final. Speedy and elusive, played 84 games scoring 27 tries and 6 field goals in seasons 1967-72 before returning in 1975.
15. Terry Fahey
"The Redfern Express" was a devastating attacking winger. Rated by Jack Gibson as the best ball carrier in the game. From Wellington near Dubbo in NSW, he played for Souths in seasons 1967-80 scoring 87 tries and 29 goals left footed before joining Easts in 1981.
16. Gary Stevens
Hard tackling second-row forward, formed a great partnership with Bob McCarthy. Played 162 games scoring 11 tries in seasons 1965-76 before re-uniting with McCarthy at Canterbury in 1977.
17. George Piggins
Tough hooker-forward, played in the 1971 grand final because Elwyn Walters was injured in the semi-final against Manly. Raked the ball back in play the balls at crucial times in the grand final, especially in the second half. Scored a memorable try at Lidcombe Oval in 1976 against Wests, barging over near the posts 'carrying the meat of the Western Suburbs pack' (Rex Mossop on Channel 7 commentary). Loyal clubman, future Chairman of the Souths Football and Leagues Clubs, he was instrumental in saving the club during the expulsion of 2000-01. He played in seasons 1964-78 in 112 games scoring 6 tries, later coaching the team in 1986-90.
If you'd like to see more content from Brad Ryder, they'd be very grateful for your support and contribution. Brad Ryder will receive 80% of all funds contributed.