Last week Frank Cookson wrote a column stating that although he's a Rabbitohs supporter he admires the Roosters. Frank took a swipe at Bunnies fans who don't fancy the Chooks, writing: "Regardless, I don't buy this purported 'hate' or whatever confected rubbish some would-be 'uncompromising', supposed rugby league supporters go on with."
Frank's strong support for the Latte Sippers continues when he describes people as "know-alls" and "childish" regarding anti-Rooster banter.
Now, Frank is a former football manager of South Sydney, the president of Mascot JRLFC and a bloke I respect. But his column stirred up South Sydney supporters, me included. And I wrote a reply on our Rabbitohs Radio Podcast Listeners Facebook group that in hindsight was over-the-top.
"Smug, loud-mouthed Roosters supporters seem to think they are better than us when the reality is they will forever be in our shadow. Their constant belittling of our fans gives us every right to resent them. I respect Frank Cookson; he's entitled to his opinion, and debate is welcome here. But as far as I'm concerned hating the Roosters isn't ludicrous".
'Til we die? Believe it.
So, I'd like to somewhat soften my harsh stance, a touch, by saying that not all Roosters fans are smug and loud mouthed. But some are. We all have memories of nasty comments heard countless times when describing our club and its fans.
But life is too short to hold onto any deep resentment and that includes the Sydney Roosters. And my response to Frank is a little bit tongue-in-cheek. Because hate really is something that's no good for anyone.
However…
Firstly, the hate is real, not confected. Rabbitohs fans will tell you this fact en masse. The long-held arch-rivalry sits well with Souths fans. We embrace the Good vs Evil dynamic. Namely that we're good, and they're not. The Roosters are the Dark Side. We're Luke Skywalker. The comparisons go on.
Why would anyone want to sanitise a long-standing, bitter feud just because one side has developed a powerful, well-connected, charitable front office and a team overloaded with talent?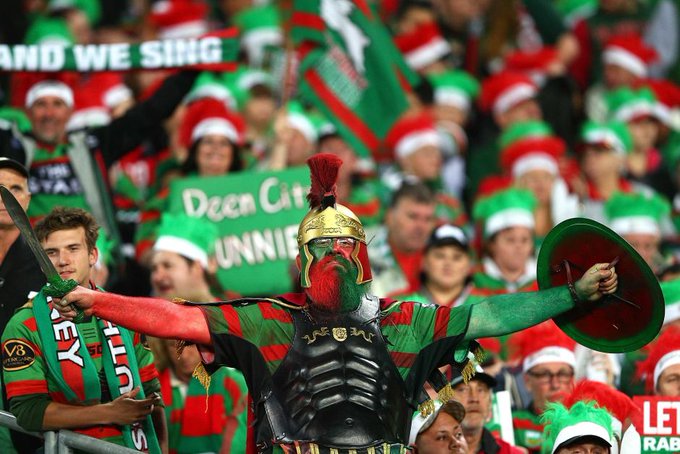 Souths fans: gladiatorial; not overly shy.
The irony is the Rabbitohs are also one of the most successful clubs in the NRL with a brand highly coveted by sponsors. Souths Cares does some amazing work helping people in our community and it owes a lot of its support to the great team of people at the club.
Our players aren't short on talent either.
My second point is that Souths fan are not "supposed" rugby league supporters. In fact, this is bordering on red-and-green treason to even suggest such an idea. Regardless of your opinions on this, fact is South Sydney Rabbitohs fans' love of this game and of our club is felt deep in our hearts. No-one will ever be taking that feeling from us. Especially someone waving a tri-coloured flag.
Glory doesn't get more glorious.
Frank finished his story telling Souths fans they "should also think on this: there are two sides of a football club, business and benevolence. And the Roosters rate highly in both".
This may be true but a football club is more than just a well-run front office. It's also the humility of its fans and the way they go about their business.
To say they are a cashed-up, well-run business able to splash more on charitable acts leaves out the very reason that Souths fans resent them. Namely the mean-spirited dismissal of the Rabbitohs as some sort of lesser class than themselves. You may be very fond of the Roosters, Frank, but I'm pretty sure that you sit among the rest of us Bunnies fans in their eyes.
'Til we die.
We love to hate the Roosters. And they hate us right back. There's no fun in trying to find some kind of tepid middle ground on the fence without the adrenaline surge that pumps through our veins when these two foundation clubs go to battle on the field.
The animosity between us was born in 1908 the year rugby league began in this country. The first time the teams met the Roosters won, only for the Rabbitohs to avenge that loss in the grand final. For 112 years Roosters fans have felt the burden of running second to the team from Redfern.
Let us enjoy this intense rivalry. I hope it never ends. And don't dare ask us to surrender our passion to defeat any opponent, especially the Roosters. We are the pride of the league and we know that fact constantly simmers beneath the surface at Bondi where envious Roosters fans will forever remain in the shadow of our 21 glorious premierships.
Related: Hating the Roosters is ludicrous, says Rabbitohs lifer Frank Cookson
Related: Peter Tunks, Greg Hawick and the Defeat of The Dogs: Rabbitohs Radio Ep21 of 2020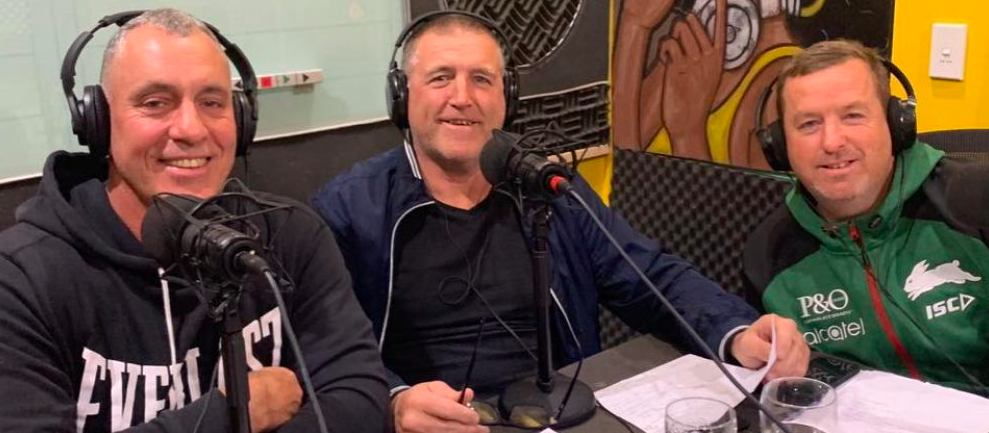 Click here to tune in to Rabbitohs Radio with (above L-R) Steve Mavin, Darren Brown and Grant Chappell. RR is proudly brought to you by:
If you'd like to see more content from Rabbitohs Radio, they'd be very grateful for your support and contribution. Rabbitohs Radio will receive 80% of all funds contributed.