Prior to the 1974 Open Championship at Royal Lytham & St Anne's, Alfred "Rabbit" Dyer – the first black caddie in an Open Championship – amused the British press by saying of Gary Player: "My man complains a lot. I just stick some paper in my ears, and say, 'Don't gimme no jive, baby,' and I make him laugh, loosen him up."
Dyer was playing to his "otherness". He was the first black American many Brits had ever met. It was a two-edged sword.
Dyer grew up in America's south and caddied from the age of nine. The first bag he carried in a pro match was Ben Hogan's, playing an exhibition with Sam Snead and Fred Haas. He would caddie for Arnold Palmer and for Player, as his father had. Of Dyer Player once said: "Rabbit is the best caddie I've ever had – he knows distances and he knows me."
After 70 holes of that Open, Player led by six. He'd played superbly on a course that Sports Illustrated's Dan Jenkins described as "funky". And then his approach shot on 17 went left into thick grass.
Walking up to the ball Player wasn't sure it could be found. He went down on his hands and knees. He had spectators and marshals looking for the ball, which had missed pin-high, thirty feet. He asked the marshal to put him on the 5-minute clock.
With a minute left, another marshal found Player's ball. Player chopped it out as best he could, made a bogey. And thought little enough of it.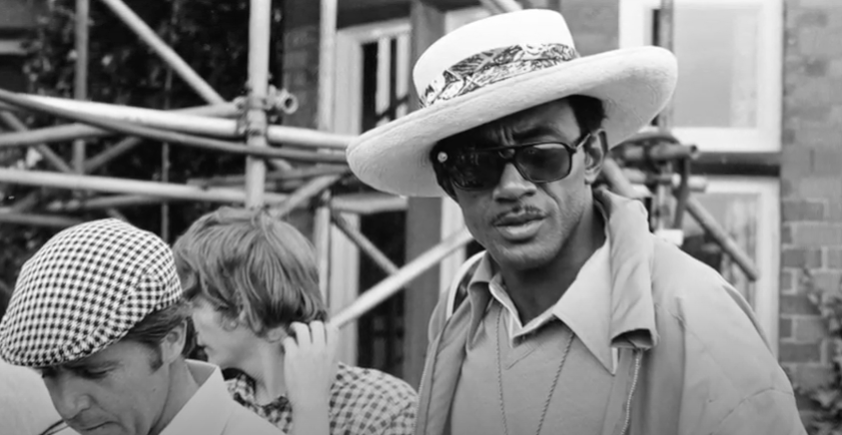 Alfred "Rabbit" Dyer in his trademark Cuban hat with Gary Player at the 1974 Open Championship at Royal Lytham & St Anne's.
In the days that followed, however, a story – apocryphal, certainly never proven – began bubbling around that the ball Player hit out of the thick rough was not the one that he hit in. The slur went that someone – and all eyes on Dyer – had dropped a fresh ball into the thick grass.
(Another, equally unproven, apocryphal thread of the yarn goes that the original ball was later found and now sits in a safe, somewhere, and the 'truth' will be one day set free.)
Player called "bullshit" at the time and many times since.
"There are certain things that are possible and certain things that are impossible," he told The Independent in 1996.
"First of all, they had the TV cameras on during the whole incident. For anybody to say that Rabbit dropped a ball is dreaming. I would put my life on the fact that he wouldn't do something like that. It's impossible. The grass was so thick."
In 2003 Player was more succinct.
"That accusation was directed at my caddie, Rabbit, the first black man to caddie in the Open. People would shout at him 'Hey, Darkie, get out of our country'.
"What they were saying was very cruel and an attack on Rabbit, because we had a six-shot lead. Is there any common sense that says Rabbit would do anything like that with a six-shot lead?"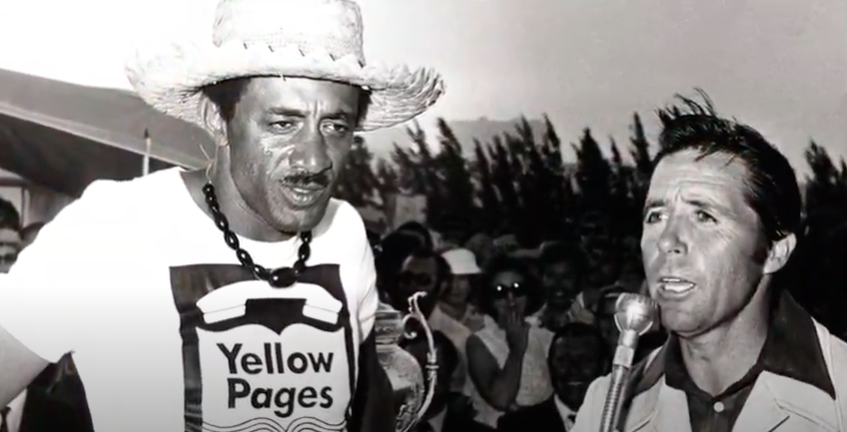 Winners: Alfred "Rabbit" Dyer (left) and Gary Player.
In the late 1960s civil rights activists, the Black Panthers and the National Association for the Advancement of Colored People [NAACP] protested against South Africa's Apartheid system of racial segregation by taunting Player at tournaments.
At the 1969 US PGA at Dayton, Ohio, Player was paired with Jack Nicklaus in the third round when a program the size of a telephone book was thrown at Player. Golf balls were rolled between his legs on the tee. Spectators coughed as he putted. A man threw a cup of ice in his face and called him a "damn racist".
As Nicklaus was about to putt on one hole, a large man emerged onto the green. Nicklaus drew back from the ball and drew back his putter. The man was intercepted before Big Jack buried his club - a Bulls Eye putter known as "White Fang" - into the man. In a see-sawing final round, Ray Floyd shot 67 and beat Player by a shot.
Player said "it was the toughest round I've ever played".
"I honestly thought I might get shot because of South Africa. It was unbelievably difficult to concentrate out there.
"I'm no racist. I want everybody to understand that. I love all people – white, black, yellow," he said.
By 1970 Player had security guards. Prior to the Masters at Augusta National, Player's caddie, Ernest Nipper, a black man, quit in fear. A caddy called Carl Jackson took the gig, reasoning that the Black Panthers didn't put food on his table.
"It was very frightening indeed," Player said. "At one point police officers stayed in our rented houses at various tournaments. People quite literally wanted to kill me even though I had protested against racial oppression a decade earlier and continue to do so today.
"I love my country and am a proud South African. It was a dark time for our nation, but fortunately we have moved forward thanks to great leaders like Nelson Mandela."
Player had moved forward too.
In 1965, aged 30, he wrote in his book Grand Slam Golf: "I must say now, and clearly, that I am of the South Africa of Verwoerd and Apartheid", referring to Hendrik Verwoerd, the South African Prime Minister known as the "Architect of Apartheid".
Player described South Africa as "a nation which is the result of an African graft on European stock and which is the product of its instinct to maintain civilised values and standards among the alien barbarians."
He later said that "a good deal of nonsense is talked of and indeed thought about 'segregation'. Segregation of one kind or another is practised everywhere in the world."
Yet as he travelled and matured and changed, and the world changed, Player evolved. He worked out that Apartheid was against the words of his Bible.
Tennis champion Arthur Ashe played golf with Gary Player in South Africa in 1974.
In 1974 he played golf in South Africa with Lee Elder, the first black man to play in the Masters, and with tennis player Arthur Ashe. Player's caddie was Rabbit Dyer. Player was branded a "traitor" by supporters of Apartheid.
By the late-'80s, Player was an outspoken advocate for scrapping the regime.
"My views began to change, particularly as I travelled around the world. The injustice was so obvious and the implications quite chilling.
"I am now quite convinced that I have played a significant role in trying to eradicate Apartheid. It was a terrible system," Player said.
And so activists found that Player was not "racist" nor an effective target for protest. Player would say he wasn't ever pro-Apartheid. He was just a man doing his best. He wished people would love each other. In the 1960 Open Championship he wore pants with one black leg, one white. He wore them again in 2000. He preached fitness and food, God and golf. "He was a pain in the arse," said one Australian golfer with a smile. "But you knew he meant well."
As he told Michael Bamberger of Golf.com: "I've said things I regret, have changed my opinion about things, and people say I have flip-flopped, but there is nothing wrong with that, we all… evolve.
"I am proud that my thinking changed. I saw how much Charlie Sifford hurt. I saw Charlie smash a scorecard pencil, he had so much anger for how he was being treated."
In 2004 Sifford became the first African American inducted into the World Golf Hall of Fame. His choice for presenting him at the induction was Gary Player.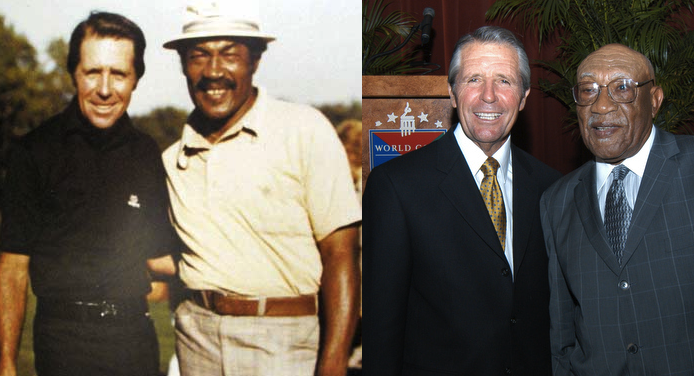 If you'd like to see more content from Matt Cleary, they'd be very grateful for your support and contribution. Matt Cleary will receive 80% of all funds contributed.