Ian Baker-Finch won the Open Championship at Royal Birkdale in 1991 and was so good they called him 'The Dark Shark' in homage to the Great White Shark, Greg Norman. They also called him 'Finchy', 'Sparrow', 'IBF', 'The Boy from Beerwah', 'a champion bloke' and, rarely just 'Ian'.
He was a top-10 player in the world. He had three Top-10s at Augusta. He was one of 'them', a top man, a contender.
He had the hands of Gershwin. Super touch, a flawless short game. His swing was svelte. He looked good; a tall and handsome man, open smile and sparkling eyes. Woman liked him. Men liked him so much they could cop his pink shirt.
And then, roughly the time John Daly won the PGA Championship, Baker-Finch figured (because so many people told him so) that he needed to 'compete' with the New Wave of Long Bombers. And he tried to fashion a long game to go with his short one. And he couldn't hit a fairway wider than the Straits of Hormuz.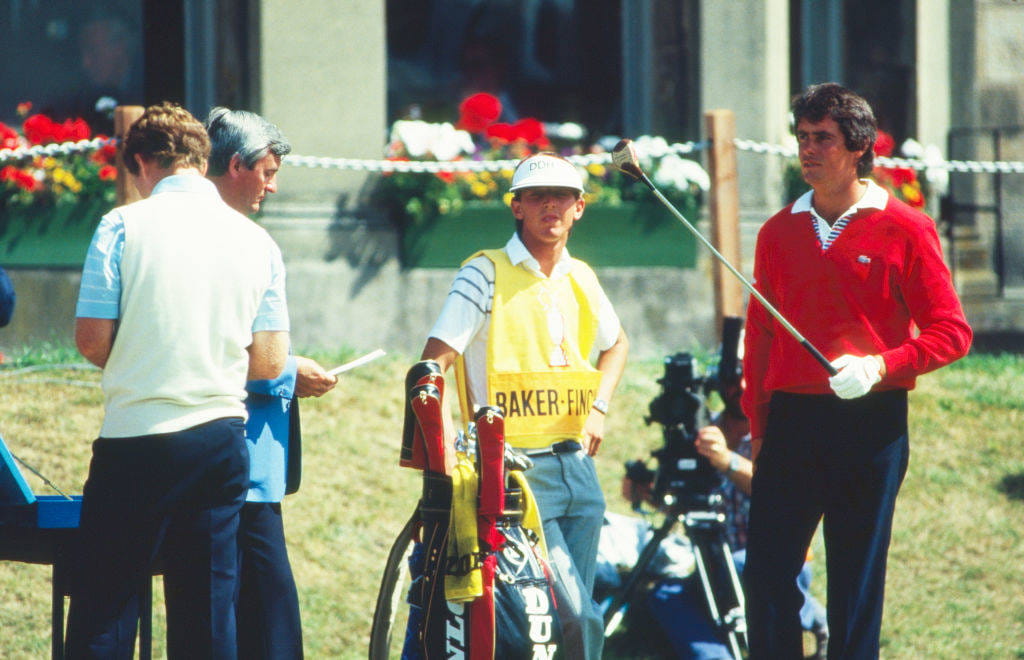 In 1984 though, he was 23-years-old and in the last group at St Andrews in the Open Championship (above). He didn't win because Seve Ballesteros did. But he took with him the belief: he belonged.
There came an invitation from Augusta National. It wasn't because he was Top-50 in the world or anything. Augusta didn't give a reason – didn't have to – they just invited whom they liked. Baker-Finch was Top-25 in 1986 through to '88, didn't get a guernsey.
First round in '85 Baker-Finch remembers his luggage not arriving (though his clubs did) so he bought all the clothes he wore that week at Augusta's pro shop. Augusta hat, Augusta shirt. The logo on everything. He also remembers the greens.
"I'd never putted on greens that fast in my life. I was shocked how fast they were. I'd have a three-foot putt and hit it ten feet by. I nearly holed out on the sixth in the first round. I had a two-footer with a bit of break that I thought I'd just ram in. I hit it thirty feet past, down the bottom of the hill."
He returned home to Australia, went to Royal Melbourne and Kingston Heath, the jewels of Melbourne's sandbelt, and learned to putt on fast greens. In 1990 he was in the last group at St Andrews again, this time with Nick Faldo who led by five, won by five. He went to Augusta, finished T7, had a chance to win but didn't putt well.
"I had a chance a couple of times at Augusta but just couldn't get it done. But so be it. Finishing top ten gave me the confidence when I did get to the British Open that I belonged there. The main thing was that British Open in 1990, seeing how Nick Faldo went on to win, it really gave me a lot of confidence, that intangible knowledge of how to go on and win the next time I had the chance."
When he got to Royal Birkdale in '91, Baker-Finch's game was prime. He was a thirty-year-old world top-10 player at the peak of his game. He'd won in Europe, he'd won on the PGA Tour. His previous tournament he'd lost in a play-off. His short game was piping hot.
He'd seen his mates win majors. His great friend Payne Stewart had won the '91 US Open. Contemporary Wayne Grady won the '90 US PGA. He felt he was as good as anyone out there. If you can make pars in a major, particularly in the weather of the UK, when everyone else is battling, that can be good enough.
Baker-Finch made birdies. Many birdies. After two rounds he tore Birkdale apart. Shot 64 in the third round. Owned it.
He went into Sunday in the last group equal leader with Mike Harwood and Mark O'Meara, both mates because most everyone was. He'd played with Harwood on the Queensland Troppo Tour. O'Meara was like a big gentle bear. Ballesteros was thereabouts but couldn't conjure more than one-over 71. Freddie Couples shot 64 but started too far back to be frightening. Greg Norman's 74 in round one had scotched his title hopes early.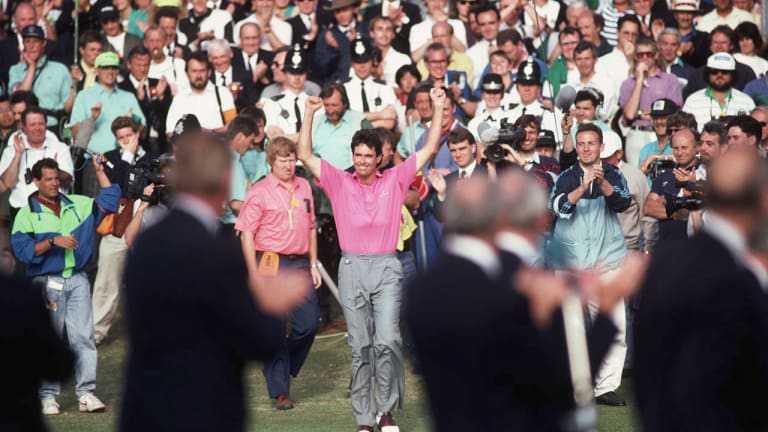 Popular winner: Ian Baker-Finch won the 1991 Open Championship at Royal Birkdale.
And the Dark Shark in the pink shirt burned them all. He made five birdies in his outward 29 and 66 in all, and won the claret jug. And the boy from Beerwah in Queensland who'd left school at 16 to pursue a crazy dream became Open champion.
And Aussies came from everywhere to help him celebrate. There was Penfold's Grange, his wife Jenny's spaghetti bol, and good times on the 18th green with the claret jug. He still drinks out of the replica today.
"I get the jug down and give it a wash out and fill it up with some good red. I've got some great photos from lots of celebrations with it."
And then everything went to shit.
No, it didn't. That's 'the story'. And it annoys our man Sparrow that the timeline in people's minds is that he fell off a cliff after Birkdale in '91.
"The problem I have with all of the stories from '91–'97, when I quit, is everyone makes it sound like the day after the British Open I couldn't bust a break," Baker-Finch said. "That always annoys me because I kept playing and I kept winning. I was top ten in the world."
He won in Australia, the '92 Vines Classic, the '93 Australian PGA. He ran sixth at the '92 Masters, was second in the '92 Players Championship. He shot 71–71–72–68 in the '93 Open Championship at Muirfield. Ran T19. Hardly the work of a chopper.
And then he tried to hit the ball further. Lost confidence. Tried harder again. Lost more confidence. Tried harder again. Again, lost yet even more confidence.
And repeat.
"I missed 15 cuts in a row in 1995. I started out in '96 and the British Open was the eleventh tournament I played on the tour and I missed all 11 cuts, so I missed 22 cuts in a row. Basically, I quit then."
Baker-Finch said if he could look back with a '50-year-old head' he'd realise his problems were "100 per cent mental".
"I needed to see one coach, get myself fit, stop concerning myself with why and just go and do what I did. Get back to being me again. And I think I could have turned it around."
Instead he asked – and listened to – just about everyone.
Get in the hole, for chrissake.
The major championship following the '91 Open was the US PGA, won in sensational style by Long John Daly, who'd driven through the night and a fog of Jim Beam to blast his way around Crooked Stick and win by three.
Daly seemed to be golf's 'new' normal – massively, stupid long; a wild man who emasculated the golf course, went at it like the Tasmanian Devil. Dog legs on a fairway? Pff! More room in the air!
And well-meaning types lined up to tell Baker-Finch he needed an extra 20 yards to keep up. And Baker-Finch, nice man that he is, nodded along – you know what? You're right. And he began to hit the ball harder - and all over the shop.
Yet rather than going back to what had won him the Open Championship – finesse, touch, accuracy, classy up-and-downs, and just playing the bloody game – Baker-Finch tried to compete with Long John and the bombers. And things went worse again.
And as they did, he tried to fix them. That duck hook? 'Compensate thus,' they said. That blocked drive? 'Compensate with this,' they said. 'That shank, Sparra? Mate – loosen up! Be the ball!'
And even though Corey Pavin won the 1995 US Open at Shinnecock Hills despite being the shortest hitter on tour – and still making more birdies on par-5s than most – Baker-Finch lined up and sprayed it ever further. And no-one was safe.
He could stripe it on the range, shoot 67 in the Pro Am and take money off his pals. But with the lights of competition on, he was a goose. In 1995 he entered 18 PGA Tour tournaments and was cut in 14 of them, withdrew from three and disqualified in one.
In the Open at St Andrews he was paired with Arnold Palmer (in the great man's final Open) and snap hooked it out-of-bounds off the first tee. And if you've ever stood on that famous tee-box, you'll wonder how that's possible. It's like missing your mouth with your fork.
Baker-Finch told Rick Reilly in Sports Illustrated:
"I dreamed of doing it. Before it ever happened, I dreamed I hit it out-of-bounds with Arnie watching at St Andrews on the first hole at the British Open. That's when it got scary, when my nightmares started playing out right in front of me."
He couldn't visualise hitting a fairway off the tee. He could go home and shoot 66 on the Monday, do the same in the Pro Am. Come out Thursday and shoot 82.
"I got to the point where I didn't even want to be out on the golf course because I was playing so poorly. I would try my hardest but when I came out to play, I managed to find a way to miss the cut time and time again. It became a habit."
In the '96 Open Championship he shot 78–84. His game was shot.
"The end analysis now is that doesn't bother me anymore. But at the time, in '95–'96 it really did bother me. I loved the game and I couldn't figure it out. I wore myself out mentally and physically. I would hit 100 drivers a day, every day for the year in 1995 and I'd go to the first tee and snap it out of bounds.
"So that's not a swing issue, that's a mental issue. But all of the swing coaches would look at my swing that I hit out of bounds, and try to 'fix' that. But that wasn't really my swing. It was a mental issue, a fear, a fast transition, whatever you want to call it."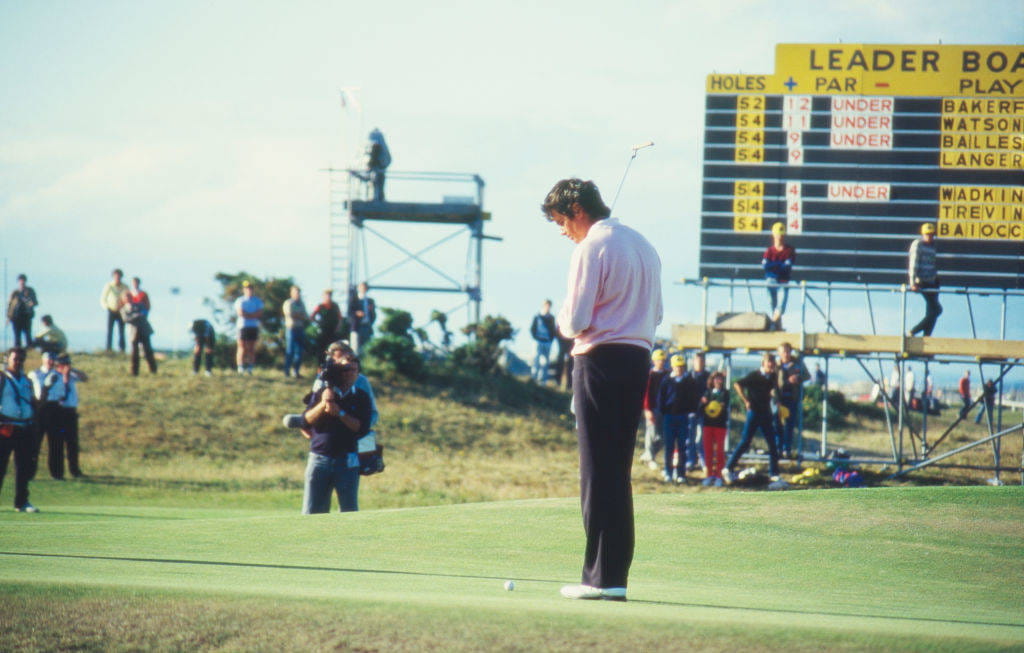 Crazy-brave, he fronted up in 1997 at Royal Troon (above). He double-bogied six after a hook. Double-bogied the postage stamp 8th out of the bunker. He signed off on a 21-over 92. A big 'W/D' went up on the scoreboard. He retreated to Troon's thankfully empty Champions Room, lay on the ground with his wife and wept.
But he got up. And through the course of time, he grew. And it surprised few who knew him that he could find positives in his journey. He even joked that he was the PGA Tour's Father of the Year – he was always home on weekends.
"Having two years without earning any money on the course, I thought to myself, 'Shit, I'm young, I've got Jenny and two young girls at home, I think I can go do something else, and feel good about myself and do better at that', which I've proven and done well in another side of my career.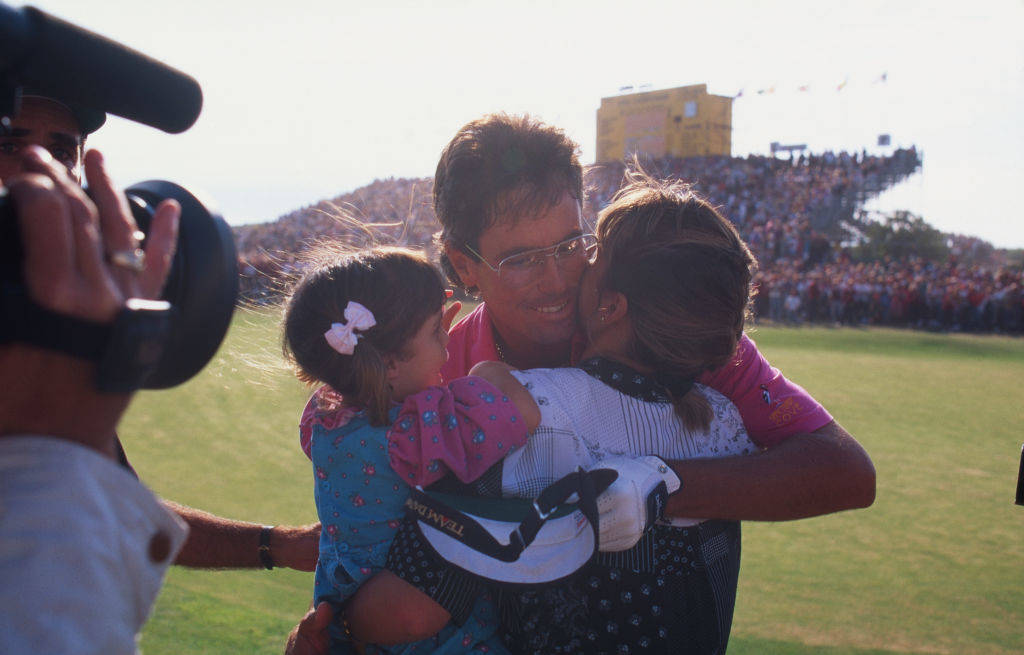 "So in some ways I could look back on it and think, 'Yes I'm disappointed that I didn't go on and continue to win, and win more majors. But I've had 20 years in the business of TV and off course in the golfing world and I've done pretty well with that."
Baker-Finch's friend and fellow broadcaster Luke Elvy has shared the odd drink from the replica claret jug, and has heard Baker-Finch's tales of Birkdale and the Old Course, and snap-hooks with the King.
"The game humbled him," Elvy said. "He'll tell you, he can't walk around thinking he's anything special. Not that he ever did. But he'll say, 'The game brought me to my knees. It ruined me. It changed me as a person.' Thing is he's probably become a better person. A champion player to a champion bloke."
You'd cop it as a eulogy.
If you'd like to see more content from Matt Cleary, they'd be very grateful for your support and contribution. Matt Cleary will receive 80% of all funds contributed.