The 1959 Sam Snead Festival golf tournament at The Greenbriars, where Sam Snead was pro, wasn't an official PGA Tour event. And that's why Al Geiberger's 13-under 59 in the 1977 Danny Thomas Memphis Classic is known as the first sub-60 PGA Tour golf round.
Yet Snead's 59 in the third round of his own tournament, replete with 10 birdies, an eagle and 25 putts, was good enough that Sports Illustrated described it as "the greatest ever round in competitive golf history".
Snead shot 31 out and 28 back. His last seven holes needed just 21 shots. He might have shot 58 had he not missed a four-foot putt on 17.
It was a round so good that Queen Elizabeth sent him a telegram.
Sam Snead was pals with her uncle, King Edward VIII, the one who abdicated. As Snead's son Jack Snead told the Naples Daily News: "[The King] would always bring Dad a gift. It was always something to do with golf. I remember one year he brought Dad two feather balls. They were made back in the 1700s.
"One year, he gave Dad one of Tom Morris's playing clubs that [Morris] had won the first British Open with."
Snead was also friends with the golf-loving President Dwight Eisenhower's, who in 1961 had a nuclear weapons-proof bunker built under The Greenbriar. The bunker remained an official US government secret facility until 1992. Today they host tours.
In 1949 the first green jacket was draped over the shoulders of the winner of the Masters - Sam Snead. He would win the Masters three times.
Snead's first jacket went missing from his locker four years after he received it. Augusta National, with Clifford Roberts' fingerprints writ large, wouldn't make Snead another jacket. So Snead would borrow Bobby Jones's jacket if he needed one. Then Bobby Jones died and Augusta made Sam Snead another jacket.
The last of Snead's seven Major victories was the 1954 Masters that he won in a play-off from Ben Hogan, a man he considered a "blood brother".
"Some people didn't understand that, because Ben and I never socialised and rarely talked. But we were like brothers, because we both made the other guy better. A lot of blood brothers can't say that," Snead said.
Sam Snead had a flowing, graceful yet powerful golf swing. Gary Player said "He was the most athletic man to ever play golf - he was like Gumby!"
Player compared Snead to Ernie Els; the size of the men, their grace, that "effortless" power.
In the late 1930s sportswriters called Snead "Slammin' Sam" but he "never liked it very much".
"I really preferred the nickname I got when I first joined the tour: 'Swingin' Sam.' That was the name that showed off my true strengths: smoothness and rhythm. Somehow people liked 'Slammin' Sam' better.
"They thought I wasn't a hard worker. But when I was young, I'd play and practice all day, then practice more at night by my car's headlights. My hands bled. Nobody worked harder at golf than I did," Snead told Guy Yocum in Golf Digest in 2010.
Trust your swing. And Sam Snead's.
Snead came to Australia and played Manly Golf Club and was described as "a good style of a bloke". He wore a trademark porkpie, straw hat much copied by men of the day. The author John Updike once described Sam Snead "swaggering around the range like the sheriff of golf county".
Snead won every tournament on the PGA Tour at least once, except the US Open in which he was runner-up four times. His seven majors puts him T5 on the all-time win list with Bobby Jones, Arnold Palmer, Gene Sarazen and Harry Vardon
He won the 1946 Open Championship at St Andrews by three shots. He didn't like the Old Course when he first saw it.
"What the hell is this place?" remarked Snead, thinking it was an abandoned golf course. In the immediate post-World War II years, the Old Course wasn't at its best, having been cared for by German POWs. There was an Allied airstrip near the 12th. Snead considered everywhere but America "camping out" including the town of St Andrews.
He was in town because Walter Hagen - and a deal with Wilson Sporting goods - convinced Snead to travel and play. Thus, the big fellow teed it up on the Old Course, drove the ball great distances and hit powerful long irons under the wind. He won by four shots from Johnny Bulla and Bobby Locke.
Snead would go on to own more records than Usain Bolt.
He won the Greater Greensboro Open eight times. The first win was the inaugural event in 1938. The last win in 1965 was also the last of his record 82 PGA Tour victories.
For reference 44-year-old Tiger Woods has 81 victories. Jack Nicklaus finished with 73.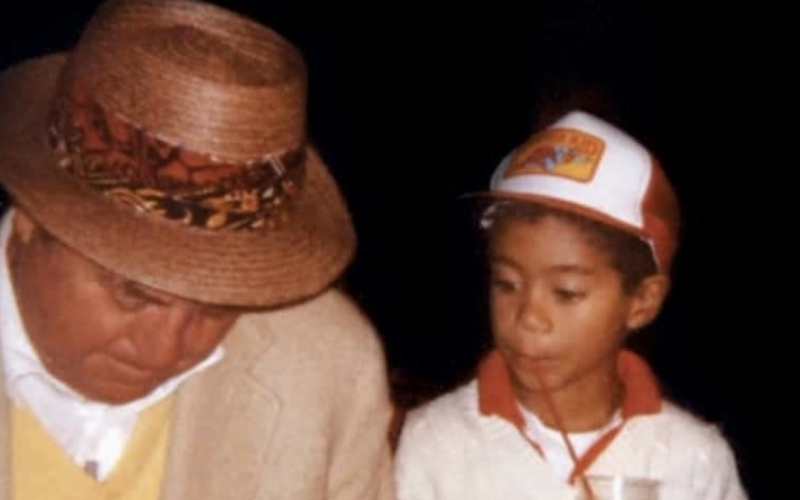 Sam Snead, left, with Tiger Woods.
The field at Greensboro in 1965, held a week before the Masters, sported Nicklaus, Player, Billy Casper and Julius Boros. Snead shot 68–69–68–68 and won by five shots. He was 52. He remains the oldest man to win a PGA Tour event.
To help celebrate the victory, Bain Oil Co. founder Carson Bain, a future mayor of Greensboro, awarded Snead a lifetime supply of McDonald's hamburgers and a hunting rifle.
And Sam Snead just kept playing, setting records, shooting his age and repeat.
In 1972, aged sixty, Snead contended in the US PGA, finishing T4, three shots back of Player.
Two years later he contended again, becoming the oldest man to finish Top-10 in a major when he ran equal third in the US PGA, three shots behind Lee Trevino.
Five years later, aged 67, he made the cut in the 1979 US PGA, oldest man to do it.
In the second round of the 1979 Ed McMahon Quad City Open (now the John Deere Classic) in Coal Valley, Illinois, Snead shot his age – 67. In the last round he shot 66.
In 1983 Sports Illustrated pointed out to Snead that he had won golf tournaments across six decades. 'Is that right?' replied Snead. 'How long are decades nowadays?'
Snead was the US Masters ceremonial starter at Augusta National for many years. On occasion, when he felt like it, he and Gene Sarazen would tee the ball off and just continue on their way, playing the golf course ahead of the field.
One year, after nine holes, Sam Snead was 2-under. It was 1991. He was 79.
If you'd like to see more content from Matt Cleary, they'd be very grateful for your support and contribution. Matt Cleary will receive 80% of all funds contributed.