So I was listening to Laurie Daley and Gerard Middleton on Big Sports Breakfast the other day, and the boys were talking rugby union. And, predictably, both men agreed that because of the Wallabies' inconsistent form, the re-setting of scrums and the odd try-less Test, rugby union needs to be "fixed".
Onto the socials and you'll find similar adverse group-think: Rugby league types like our man Andrew Voss, fishing on Twitter with former Raiders Pommy back-rower John Bateman, described try-less union Tests as "embarrassing".
Just as predictably it riled up Vossy's base of Code War warriors, those Rusted On League Fans (ROLFs) who nodded along and jabbed opinions into keyboards, and declared that there's too much kicking (though there's a kick near every set in league) and that the Wallabies don't win often enough, nor entertain them. And etc, ad infinitum.
And it's all a bit of thing, if a bit tired.
And yet, like any stereotype, there's elements of a truth to it. And rugby union, like league, should adapt and overcome. And it must change. And learn things from its cousin code.

That said, rugby union needn't worry about converting your garden variety ROLF. And certainly when the good burghers resident in World Rugby House in Dublin – to wit: the Men Who Rule The Game - if they're thinking about rugby league at all it's along with the passing of beer nuts. Rugby league is largely irrelevant, "an Australian thing", and even then just in two states, and the north of England, and Port Moresby, and where are those beer nuts.
And yet, again, union can learn from league.
For one, league isn't afraid of change. Of course it can, and quickly, because "rugby league" is effectively ruled from a bunker in Moore Park. And those in the bunker are its gods, and they don't give a stuff about the game in France or Brazil, or even the north of England, really, at least not in the context of their remit which is to make rugby league more interesting, and profitable, in an Australian sports market so competitive there's a hashtag for it: #Codewars.
So rugby league just does stuff. Changes stuff. And with a benign, street smart dictator in Peter V'Landys, they do what they want. They listen to their constituents and "stakeholders", if not the fans who they see as largely barking mad. Plus they've got them anyway, for all their yap about never watching a game again because of [Outrage X].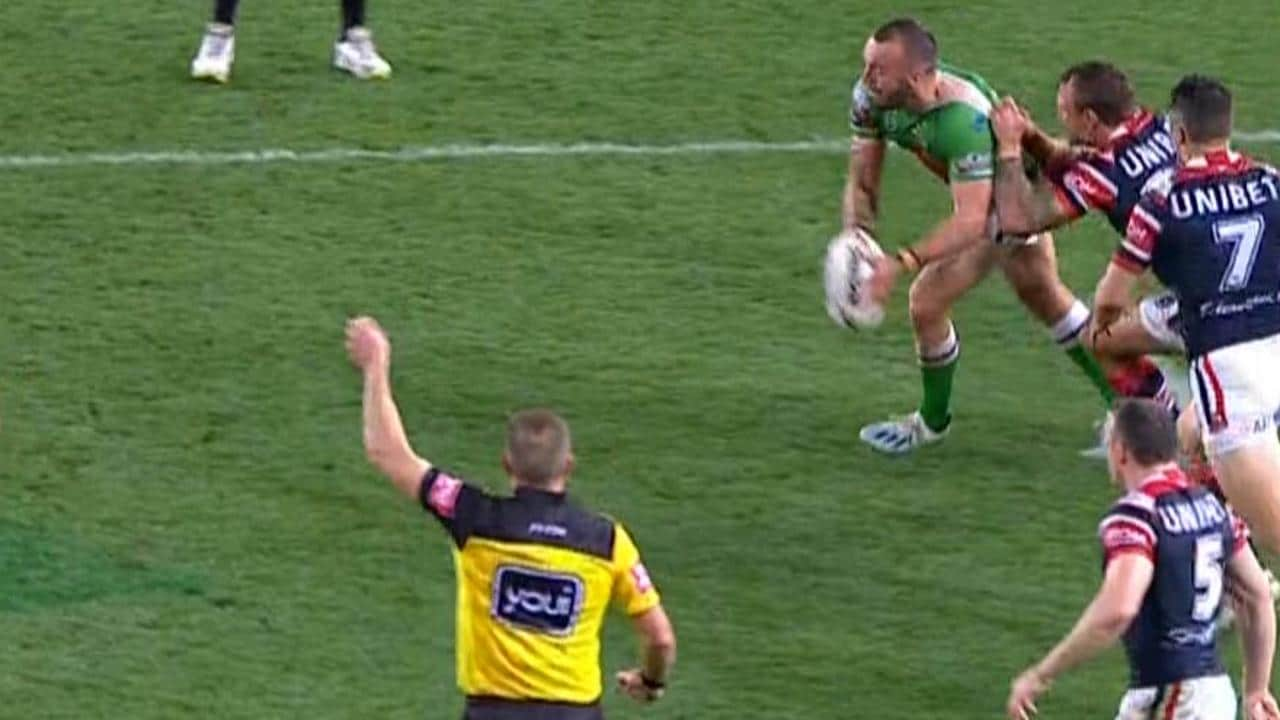 Six again: a good thing, if in this case bad. Pic: Fox Sports.
Anyway - each year they have talk-fests among Important Types, and decide: brush a ref? "Six again"? Give it a go!
And rugby union can learn from this.
And in other ways rugby union should ignore league as always.
For one, the scrums. For your ROLFs - and admittedly many others - union scrums and their constant re-setting is boring. And that's okay. It's subjective. Personally I find story in scrums, in the arcane chicanery in the battle for possession. But yes, they can take a while to re-set. I can see how it doesn't appeal to non-unionists.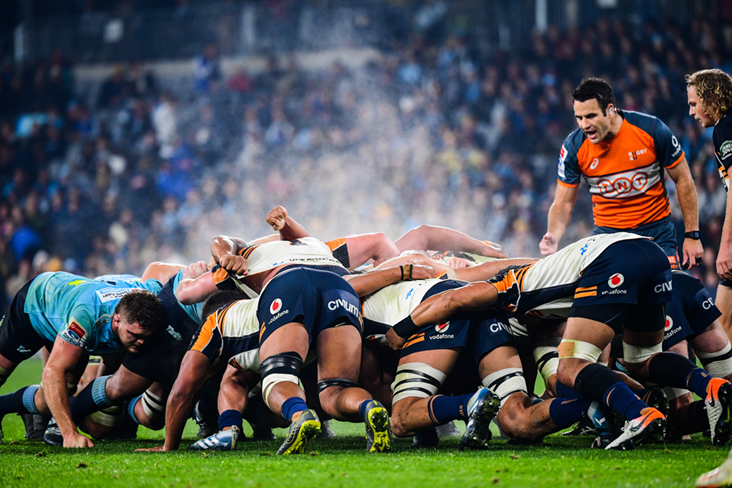 The author likes the "story" of a union scrum; even if it takes a while to tell. Pic: Rugby Australia.
But the answer isn't in rugby league. League scrums are no more than a penis-less joke. They're a eunuch. They're a period of détente in an otherwise fierce 80 minutes. Criticise union scrums all you like – but no-one gives up in them. No-one's there for a bludge.
What to do? Just leave 'em. Or tweak around the edges.
Or this: short-arm penalties.
And not just for scrums, for all rule infringements, go with short-arm free kicks. Like league's "six again", keep the party going, get the footy flowing. Reduce opportunities for shots at goals. Play advantage. And when it's over, play the short arm penalty where it finished rather than back at the spot.
You want as many games like the eight minutes of extra time we saw in the draw at Wellington: ball-tearing, all action, hot potato, no-penalties, sheep station stuff. It was magnificent footy. Why not try to have more of that? Why not give it a go?
Another one from league, and people may hate it. But thirteen a side.
Fifteen giants on the same size field we had in 1876 doesn't wash. They're too big, too well-drilled in defence. You need to create room. And so two people have to come off; one back, one forward. In the scrum, sorry Mr Shelford, Mr Kefu, Sir – but I'm axing No.8. In the backs, doesn't matter which one. Probably a centre. The pin-heads can sort it out.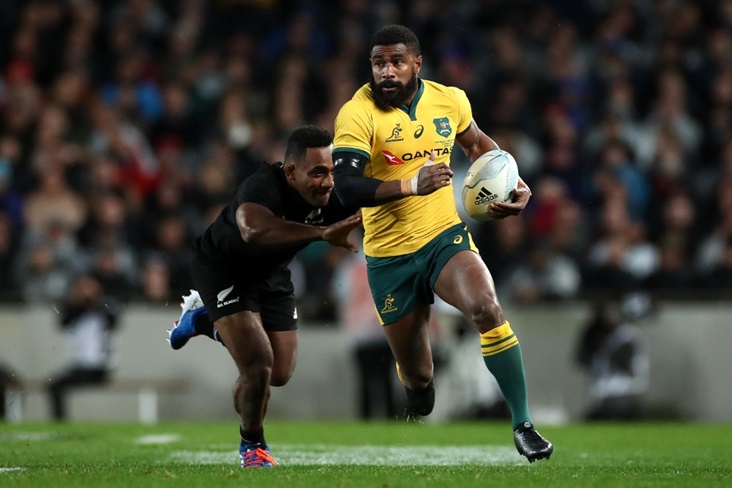 More room for Marika? Make it happen, rulesmen. Pic: Rugby Australia.
One thing union can leave to league is the baying for "consistency". What they mean is perfection. What they get is uniformity. While a game of union can roam across the paddock, with long kicks, raking movements, and passages of power-play in the middle channels as beefy types test inside backs – and, yes, long minutes of inaction as scrums are re-set and pretty boys line up penalty goals - league games can have the same "look".
A mate of mine can commentate league games before things happen. "Kick-off goes deep. It's caught by a back. It's passed to a big forward to crash it up. Then another pass, another crash. One more of them. Then: shift, and crash. Shift, and kick." And repeat. He's right 95 per cent of the time.
But then people like uniformity. Look at McDonald's and AVIS and your local Coles. You walk in those joints, you know what you're going to get. Game of rugby league, bit the same.

Game of rugby union, not so much. Especially Test match rugby. You might get a cracker as we did in Wellington. Or you might get a rainy, try-less 15-all draw against Argentina in Newcastle.
And if you're only as good as your last game, then for your ROLFs and others, rugby union sucks. Doesn't matter the Wallabies were a goal-post from beating the All Blacks in Wellington. Doesn't matter they did beat them in their fourth Test of the year (dead rubber, you see).
Doesn't matter that outside of a couple of poor halves in Auckland and Sydney this young and plucky team of upstarts representing Australia largely competed with and beat – and occasionally physically dominated – the best team in the history of the game, the historically greatest team in world sport.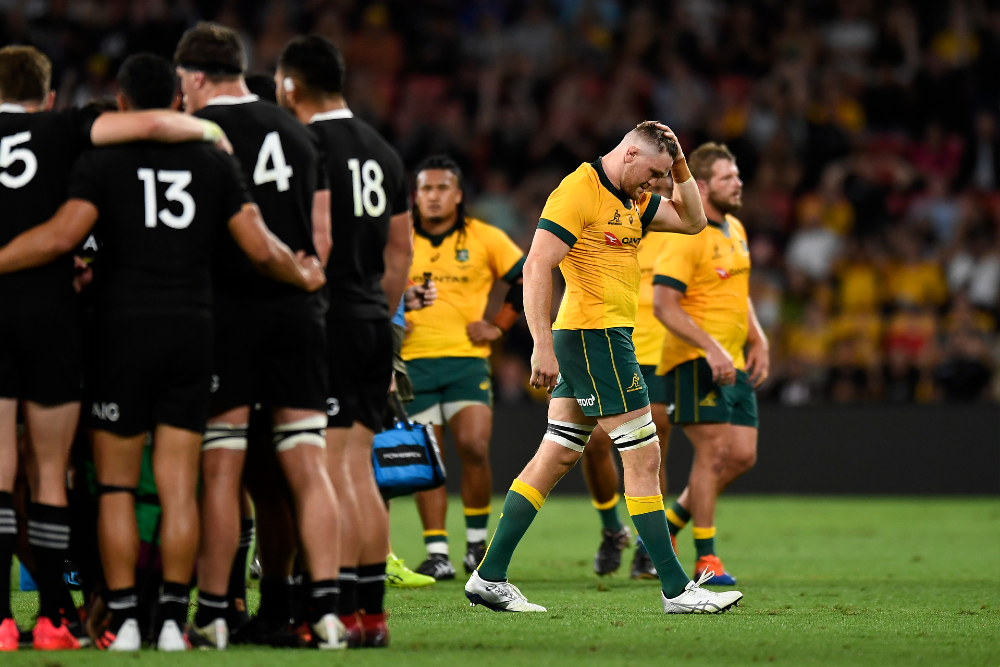 Lochie Swinton was sent off for a high shot in the Wallabies 24-22 win over the All Blacks in Brisbane. A rule they could have a think about, also. Pic: Rugby Australia.
One dud Test and the stereotypes are back to reinforce in-built belief and bias. People read The Guardian or watch Fox News for the same reason. They believe what they want to believe. Millions of Americans think Trump won the election and that a conspiracy of leftists stole it. You could tell the poor dumb bastards anything.
And just as Trump isn't judged by his cult followers the same way they'd judge Obama if he'd ripped off one per cent of the very same crazy shit, ROLFs don't apply the same standards of entertainment to GGOA, which can be as formulaic and rehearsed as World Championship Wrestling.
And the Wallabies - and one assumes the Socceroos, Hockeyroos, Dugongs (Australia's O/45 Men's Fistball team), too – must not only win most of the time but please the nay-sayers aesthetically. And thus after each Test match, like Russell Crowe in Gladiator, Michael Hooper must front the cameras and ask, "Are you not entertained?"
And the answer - because your ROLFs are no fans of scrums, lineouts, rucks, mauls and competition for the ball – will often be "sorry, no, not entertained".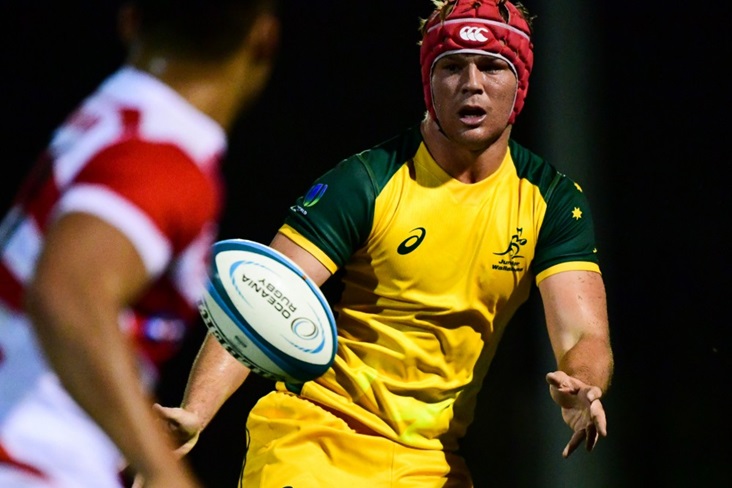 Wallabies No.8 Harry Wilson is another belter. Pic: Rugby Australia.
ROLFs don't seem to be on Team Australia when it comes to the Wallabies. They're on Team Rugby League. It's like a side of politics. It's ideological warfare. People can't countenance supporting a "rival", even if it's the representative team of their own nation state.
Journo mate of mine has heard other journos, league men, in press boxes, actively cheering against the Wallabies, so one-eyed are they in their belief and cheer-leadership for GGOA over all the games. Because the Wallabies, and by dint of them The Game of Rugby Union, is a rival in the #CodeWars. And these people are rugby league's professional soldiers. The punters on Twitter are volunteers.
Mull over that in a big sports breakfast.
If you'd like to see more content from Matt Cleary, they'd be very grateful for your support and contribution. Matt Cleary will receive 80% of all funds contributed.