Dear Frank,
At the risk of going back and forth until we forge an online version of The Book of Feuds, as the bloke in Pulp Fiction says at the start: Allow me to retort.
Indeed allow me to retort to your retort to my retort!
My recent piece was in response to yours contending that "Hating the Roosters is ludicrous". It was me putting an alternate viewpoint that shone the spotlight on some of your comments, which I found a touch harsh and unwarranted.
Namely: that some Souths fans who hate the Roosters are "talking rubbish", "'supposed' rugby league supporters", "know-alls" and "childish".
In your follow-up article you doubled down and described some Souths fans as: "fickle"; "fair weather supporters"; "feral"; "whingers".
These are strong words, Frank, and I think you've overstepped, even if you did use similar language to describe some Roosters fans.
But here's the thing: we get bagged enough by Roosters fans, we don't need one of our own jumping on their bandwagon.
I'm not sure why you would try to paint any of us in anything but the best light considering your comment that you've "been a Souths supporter since day one".
Rabbitohs fans are the most passionate and loyal people I know. And our long-standing arch-rivalry with the Chooks will never go away. And that's fine. Feuding superpowers are embraced by loyal fans in sports competitions around the world. It's a way of life.
Try telling an Everton fan that Liverpool aren't so bad, or Boston Celtics fans that the LA Lakers are good bunch of blokes. They would have none of it.
Celtic and Rangers contest "The Old Firm" derby. So do their fans.
Of course, if you like the Roosters, good for you. That's your opinion and you're entitled to it. I just don't share the same view and I feel that the majority of Souths fans don't either.
Sure, sing the praises of the opposition to your heart's content. But please don't ask us to join in the chorus.
Yes, we may have some fans who aren't always dedicated, but so does every other club, so that is really a pointless argument. To me it just feels like you're taking pot shots and having a go at your own club's fans to give your point more validity.
You say that there's no way you'd criticise the "sensible" Souths fans, but you can't divide us into separate groups. I reckon there's truckloads of the so-called "sensible" brigade who despise the Chooks as much as anyone. Maybe they phrase it differently. But the rivalry - and yes, Frank, the hate - is there just the same.
Attempting to divide Souths fans into different denominations, somehow placing yourself in a good section and dismissing the lesser classes sounds like the behaviour of a Roosters fan. Someone you claim not to be.
I must also point out that there's plenty of us who aren't sensible, and that's fine by me. We come from all walks of life, spread across the globe, but we all bleed red and green. Many of us are crazy, impulsive, amazing characters, and without them our mighty colours could seem a bit beige.
We are the pride of the league, the mighty Rabbitohs, SSTWD! There's no other club for us. No one can expect us to be fond of any opponent, much less the bloody Roosters. No-one can ask us to like them in the slightest, regardless of how well they are run or how well their team is performing.
Finally, as to footy tipping, when I make my selections each week my tactics are: A) Tip Souths; and B), tip whoever is playing the Roosters.
It may not be sensible. But I do know this: a Rabbitohs win plus a Chooks loss equals a great weekend.
Related:
Hating the Roosters is ludicrous, says Rabbitohs lifer Frank Cookson
Hating the Roosters is far from ludicrous, Frank, it pumps through our veins: Steve Mavin
Click here to tune in to Rabbitohs Radio with (below L-R) Steve Mavin, Darren Brown and Grant Chappell.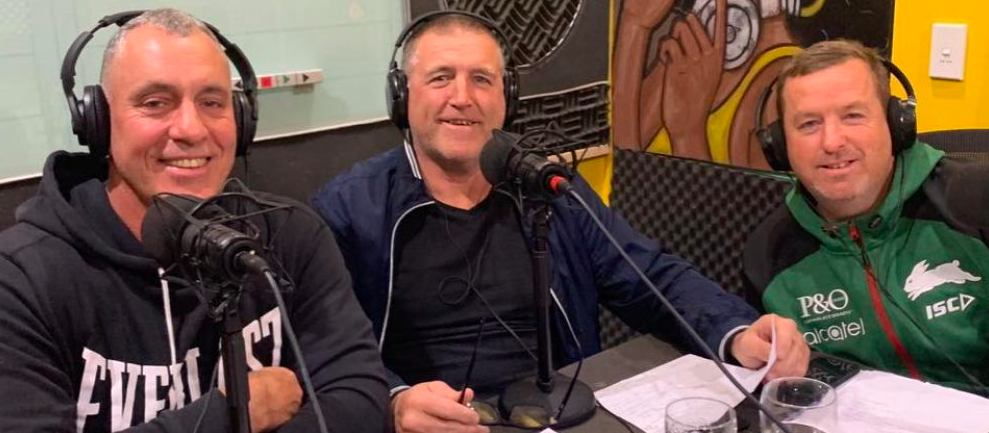 Rabbitohs Radio is proudly brought to you by:
"I'm not backing away": Frank Cookson doubles down on Souths-Roosters "hate" talk
If you'd like to see more content from Rabbitohs Radio, they'd be very grateful for your support and contribution. Rabbitohs Radio will receive 80% of all funds contributed.