Contracts are parlous enough documents in modern professional rugby league. Like the salary cap - a self-imposed ceiling on player earnings - they keep people moving around. If someone wants out and their club's good with that, it's win-win for player and franchise, if not fan.
There's no stopping progress.
And so, for a season preview with a slant, we've knocked up Manly's probable starting XIII for season 2020, and followed those worthies with everyone from the greater squad. And we've nailed down how long they're signed up for, and divined from that how long they're going to be good.
And the answer: long enough. Manly is looking good for 2020. And '21. And '22. After that, only Future Ben Trbojevic - signed on a rookie deal alongside his famous brothers - could tell you.
The contracts of the big names – Tom Trbojevic, Jake Trbojevic, Daly Cherry-Evans, Martin Taupau – have been well documented. Those guys are locked and loaded. You couldn't prise them away from Des Hasler with a Bobcat from space.
But how long can the Brookie Hill mob howl for a Jorge Taufua hit? How long will girls swoon as dimple-chinned Reuben Garrick streaks down the wing?
Answer: again, long enough! All but Moses Suli (below) - cunningly signed to a one-year deal, we'll extrapolate why later - has signed for two seasons or more.
Who Des wants, Des has.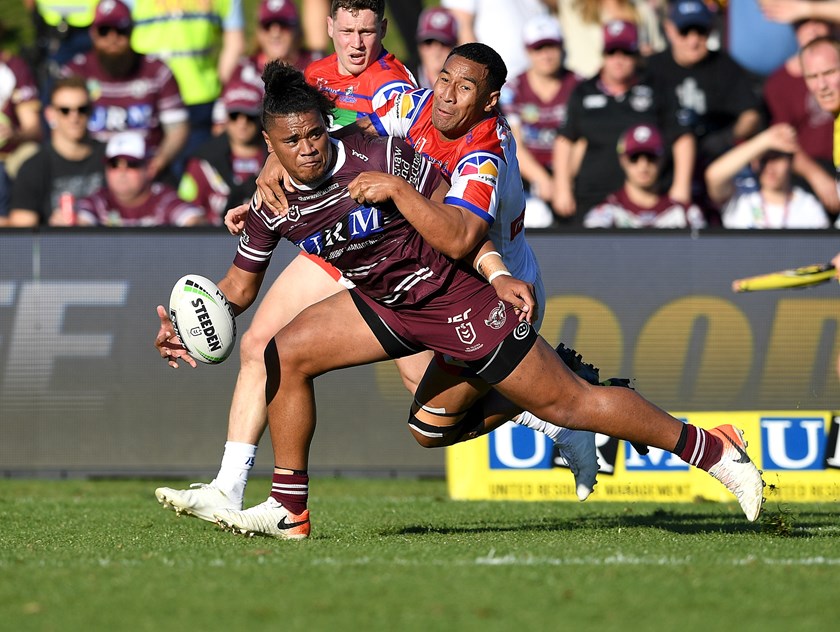 New players at the Sea Eagles in 2020 include:
Danny Levi from Newcastle Knights (as a stop-gap for Manase Fainu's "No Fault" standown);
20-year-old halfback Luke Metcalf who's been upgraded from a development contract;
Brayden Musgrove, 21, also from the Knights.
Moving onwards are Kane Elgey and Trent Hodkinson (retired), Api Koroisau (Penrith) and Lloyd Perrett (Brisbane).
And the anticipated starting XIII - with all The Rest in a big bundle below - is as follows. We've also included how long they'll be bopping about in maroon-and-white, at least according to their contracts. For what it's worth.
Bottom line? We like 'em.
1. The brilliant Tom Trbojevic is wrapped up for the next seven – count 'em 7 - seasons. And thus there's no need to worry about his man-movements until some time, you'd suggest, in the off-season of 2025/26. Keep the flying brilliant big man on the field and the Sea Eagles are dangerous every match. He's like young Greg Inglis. He's an absolute beauty.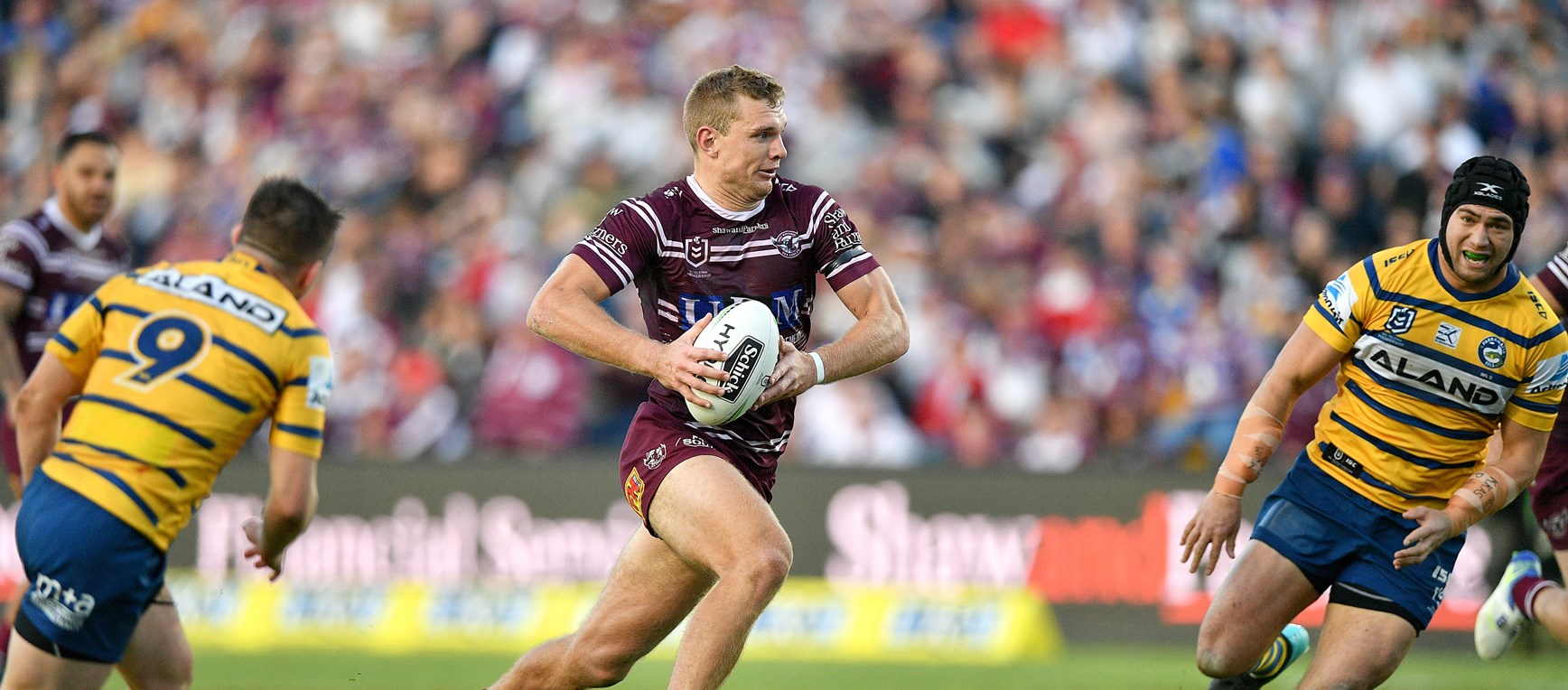 2. Dependable, rib-rattling wing-man Jorge Taufua will be 30 years old when his contract expires at the end of 2021, and you'd suggest that'll be the end of his time flattening people in first grade. It's been a hoot thus far, and Taufua remains a crowd favourite and the most feared defensive winger in the game.
3. After his breakout season in 2019, flame-haired centre Brad Parker had scouts and opposition clubs sniffing about wondering Who is that flame-haired straight man? But they can sniff no more because Parker B. is signed as a Sea Eagle for the next two seasons. He'll be 23 in late Feb. The Brad Parker years are now.
4. Moses Suli remains unsigned by Manly beyond this season. The Tongan international is just 21 and has been prone to eating and exercising at levels not conducive to remaining in the National Rugby League, particularly under a coach like Des Hasler. But word is our Mose is fit and firing, and it's seen as a canny move by Manly to not sign him longer than a season lest he get too comfortable in his own flabby skin. It remains a calculated risk, however, whether other clubs fear signing him for the same reason. Because at his best the 110 kilogram centre can carve you up.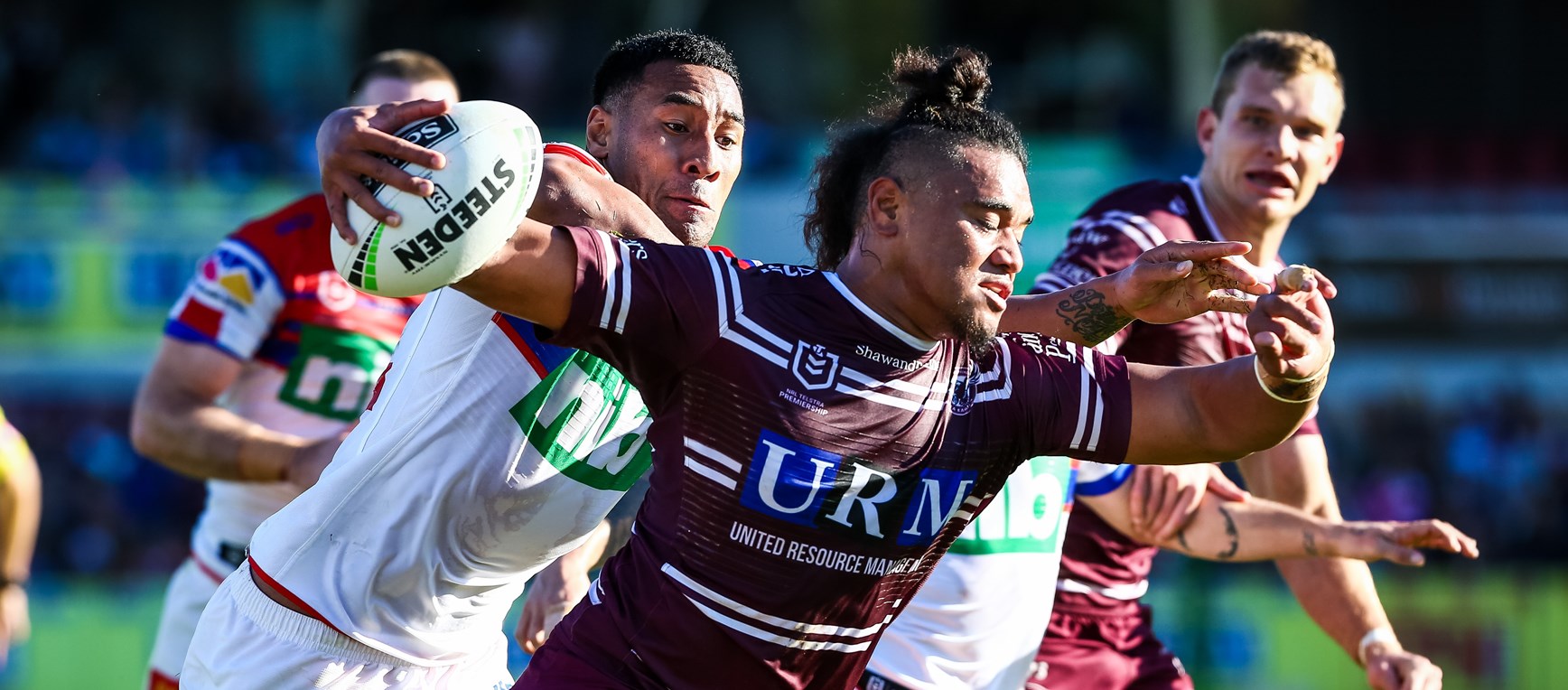 5. Reuben Garrick was Manly's Rookie of The Year, top try-scorer and top point-scorer, and will be doing it at Brookvale for two more seasons at least. A minimum of mistakes. Fast. Top goal-kicker. Looks good on the telly. Ticks a few boxes for Eagles Inc., spunky Reuben.
6. Dylan Walker has two seasons to run on his contract and will be looking to repay the faith of Manly fans who haven't seen his best. Class player considered good enough for State of Origin. Des Hasler will eke out every bit of him. You sense Walker wants to be liked. You sense he has this season to give Manly fans reason why.
7. Daly Cherry-Evans is signed until the end of 2023 when he'll be 34 years old. One of the premier halfbacks in the NRL, a fit Cherry-Evans – alongside the Trbojevic brothers and props Marty Taupau and Addin Fonua-Blake – is pivotal to Manly's chances of a premiership within DCE's next few birthdays.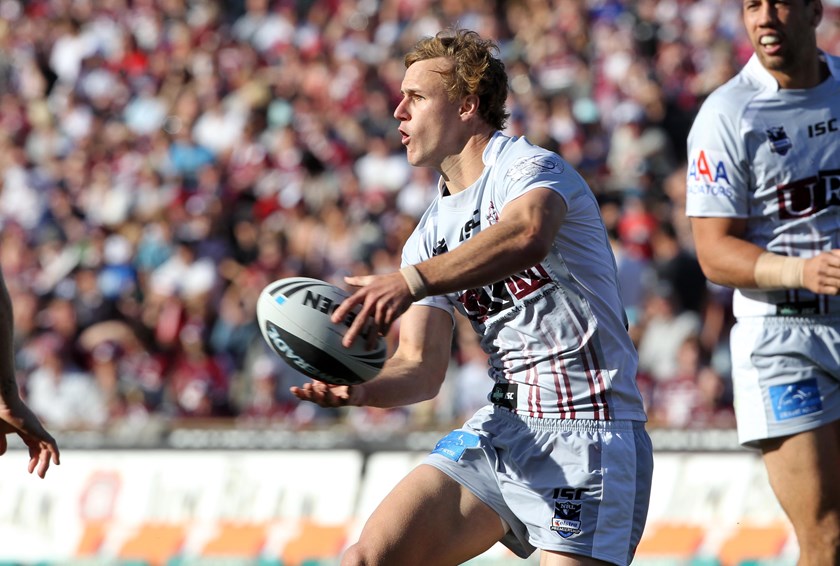 8. Mighty Martin Taupau, 30, remains the strongest man in the NRL. The Samoan and Kiwi international is clearly extremely well thought of at Brookvale because they've signed him for three more years. Don't cut that hair, big man.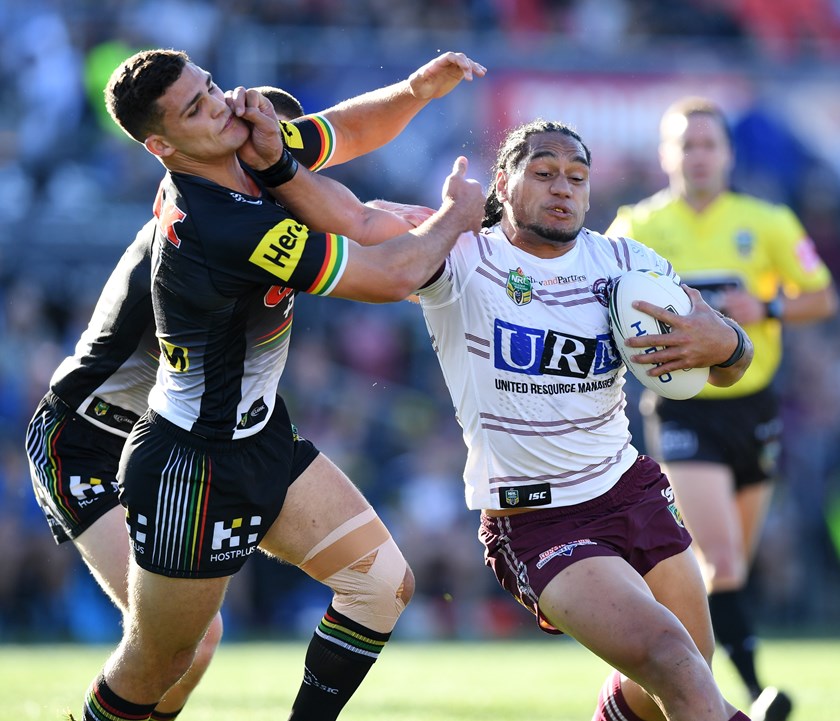 9. Following the arrest and subsequent charging of Manase Fanu for allegedly stabbing someone at a Mormon church dance, 83-game rake Danny Levi comes from Newcastle on a one-year deal. The 24-year-old has run around for Samoa and New Zealand, and is clearly first grade NRL quality. But if he goes down, out to Blacktown Workers D.Hasler must go. And if there's a weakness in Manly's best XVII, it appears to be base of the ruck. Because Lachlan Croker is a hooker not.
10. Addin Fonua-Blake is entering his optimal prime as a front-rower after several seasons of getting bigger and better. If he gets any bigger and better, Manly fans will be overjoyed to learn he's signed at Brookvale until the end of 2022.
11. Workhouse senior citizen Joel Thompson has two more seasons with Manly and given he's now 31 years old you'd assume the NRL. Thompson is lean, hard and fit as a trout. And a very good man to have around. Moses! Don't eat that chicken!
12. Shades of the mercurial about Curtis Sironen. The Son of Sirro has played 107 first grade games, is 26-years-old and has signed with Manly for two more years. You sense if he was going to be an Origin player he'd be an Origin player. But doesn't mean he's not still very good. Soft hands and hard charges on the edge. Lot to like.
13. Jake Trbojevic was Manly's best-and-fairest in 2019 and has been gift-wrapped by the club until the end of 2026, which in rugby league terms is like signing Buddy Franklin til he's 42. Trbojevic is one of the best ball-playing forwards in the game, and the beating heart of the club. And if the footy gods are kind and injury doesn't befell he and/or his brother after State of Origin, then this Manly team can go deep into 2020. Absolute gun.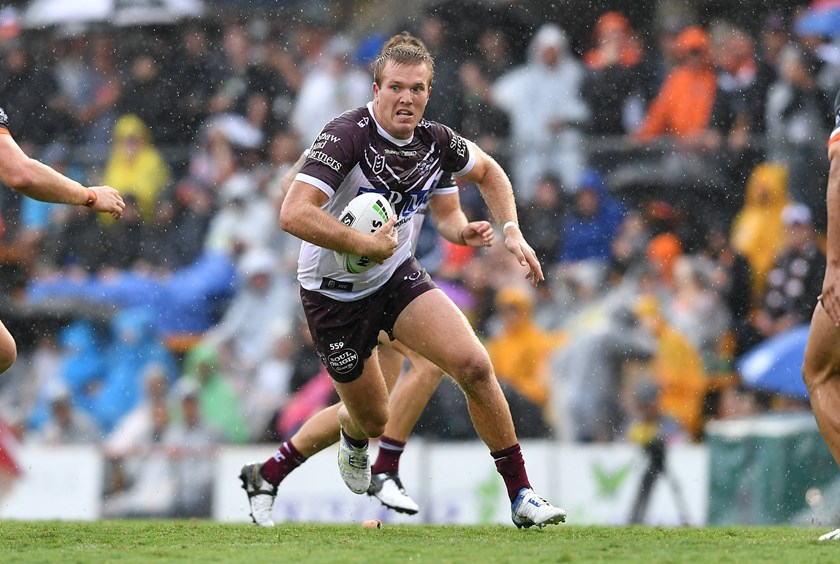 The Rest
Signed for 2020 only
Cade Cust
Brendan Elliot
Albert Hopoate
Luke Metcalf
Samuel Smith
Corey Waddell
Tony Williams
Signed to end of '21
Taniela Paseka
Toafofoa Sipley
Morgan Boyle
Lachlan Croker
Tevita Funa
Jack Gosiewski
Sean Keppie
Haumole Olakau'ata
Development contracts
Jade Anderson
Abbas Miski
Zac Saddler
Josh Schuster
Keith Titmuss
Ben Trbojevic, filmed here pushing his brother Jake into a pond at Mona Vale Golf Club.
If you'd like to see more content from Manly Sea Eagles, they'd be very grateful for your support and contribution. Manly Sea Eagles will receive 80% of all funds contributed.